NCO Open Auditions for 2023
14th June 2022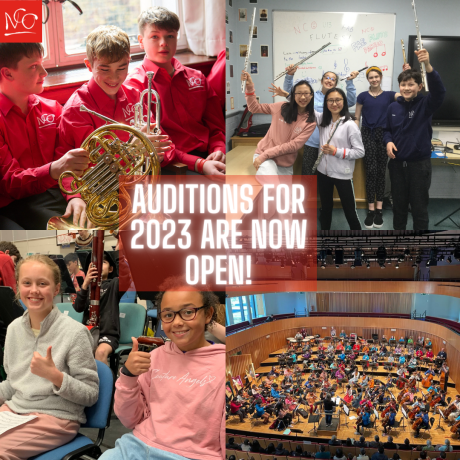 Having enjoyed a triumphant return to in-person activity through its 2022 National programme and brand new Projects programme, NCO is delighted to announce that auditions to join the 2023 programme are open from now until Tuesday 2nd August 2022.
Each year, NCO supports more than 650 children aged 8-14 to be happy and healthy through transformative orchestral experiences and performances of exceptional quality. They inspire children to be the best musician that they can be, unlock their creative potential and support their wellbeing. NCO gives children the time and respect to develop their voices, all while children make friends and have fun!
"I want to be a musician 10 times more now. That's the highest standard orchestra I've ever played in – I wish I could do it every day." NCO National Member, Spring 2022
NCO is excited to open auditions for 2023 in which it will continue its long established National programme of orchestral residencies for 11-14 year olds and its brilliant new Projects programme, made up of non-residential orchestral weekends for 8-14 year olds in Bolton, the Midlands and London.
NCO welcome auditions for 2023 from young musicians who:
• are aged 8-13 years old (as of 31st August 2022) and
• play an orchestral instrument to the appropriate standard and
• are British citizens or are living/studying in the UK
NCO are interested to hear from all young musicians with promise, whatever their background, schooling or circumstances and are particularly keen to increase applications from musicians who attend state schools and from lower income families. NCO's means-tested Financial Support programme is available for applications for support to cover membership fees. It is free to audition, and all auditions are submitted via a pre-recorded video.
"We have been so inspired by the enthusiasm, creativity, hard work and resilience of the children who have taken part in NCO in 2022. It has been a joy to bring them together to make music, to learn more about themselves and their instruments and to above all, have fun and make friends. It gives me great pleasure to launch auditions for 2023 and open NCO's doors to even more young musicians." Sophie Lewis, Chief Executive, NCO
Full eligibility and information on auditioning can be found at https://www.nco.org.uk/join-in/audition-information-for-nco-2023
To apply, young musicians and their parents/carers should complete the application form including the link to their video audition no later than 9am on Tuesday 2nd August 2022.