Nationwide search for next cohort of the National Youth Folk Ensemble
21st April 2017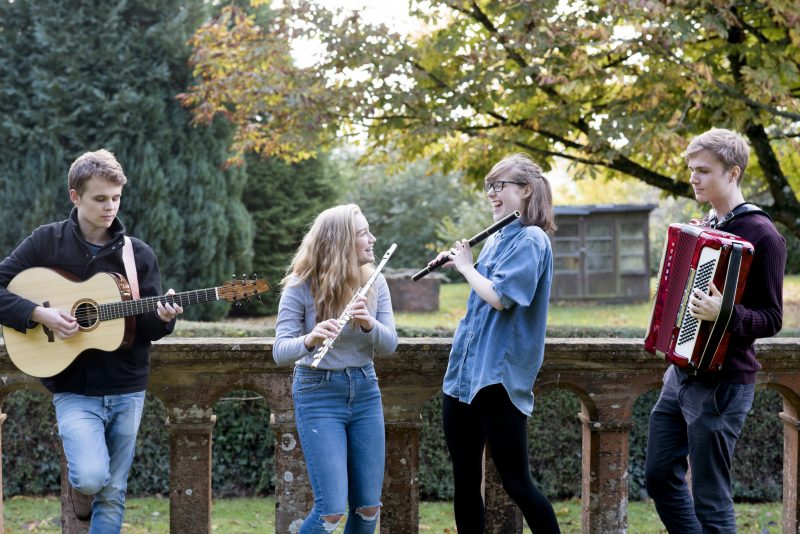 Photo credit Camilla Greenwell.
The English Folk Dance and Song Society (EFDSS) has launched a nationwide search for talented young musicians to become the next members of the National Youth Folk Ensemble.
A series of Sampler Days will be held throughout England during May and June to audition musicians aged 14 to 18 for up to 25 places in the 2017 – 2018 Ensemble, which is supported by Arts Council England.
Led by the Ensemble's Artistic Director, former BBC Radio 2 Folk Musician of the Year Sam Sweeney, each Sampler Day includes creative workshops with a team of professional folk artists, individual auditions, and a question and answer session with Ensemble staff.
Selected musicians will be invited to a final audition in London on July 8 or 9. To register for a Sampler Day, musicians have to be aged between 14 and 18 on 1 September 2017, live in England, be able to play confidently on any instrument and have an interest in folk music.
Places on the Sampler Days are free but limited and booking is essential at www.efdss.org/nationalyouthfolkensemble.
EFDSS launched the National Youth Folk Ensemble in 2016 to increase opportunities for young people and audiences to discover folk music and raise the profile of folk music in England.
During the year, members will take part in four weeks of intensive residential courses around the country, receiving high quality tuition and guidance from leading professional folk artists.
They will also develop skills in performance, arrangement and leadership and give public performances

Katy Spicer, EFDSS Chief Executive and Artistic Director, said:
"The first year of the Ensemble has been a huge success.

"It has been a chance for the young musicians to develop and challenge their own abilities and learn from some of the best musicians in contemporary English folk.

"We are now looking for more excellent instrumentalists who are dedicated to developing as folk musicians and excited about collaborating with others who share their passion. Whether they go on to make the final ensemble or not, taking part in a Sampler Day will be a valuable developmental opportunity for any young musicians interested in traditional music."
Sixteen-year-old Cori Smith is a classically trained viola player who said she had been "transformed" since joining the National Youth Folk Ensemble.
"I've met so many talented people and it has been great to learn from them. I was a bit intimidated at the start, joining in the sessions with tunes that some other people just seemed to know, but by the end of the residential sessions, I had improved so much and was able to join in and play along by ear. It's really developing my listening skills.

"It is such a warm and supportive environment, you can't fail to be inspired," she added.
National Youth Folk Ensemble Sampler Days 2017:

Saturday 27 May – Colston Hall, Bristol
Sunday 28 May – Royal Northern College of Music (RNCM), Manchester
Monday 29 May – Sage Gateshead
Tuesday 30 May – University of Sheffield
Wednesday 31 May – Stamford Arts Centre
Friday 2 June – The Anvil, Basingstoke
Saturday 3 June – Cecil Sharp House, London
Sunday 4 June – mac Birmingham
Keep up to date with news about the ensemble at www.efdss.org/nationalyouthfolkensemble and tweet @theEFDSS #youthfolk
For further press information please contact: Jo Cunningham (PR Manager, part time) press@efdss.org or 07815 913887
NOTES TO EDITORS

1. The English Folk Dance and Song Society (EFDSS) was established in 1932 by the merger of the Folk-Song Society, founded in 1898, and the English Folk Dance Society, founded by Cecil Sharp in 1911. As the national development agency for the folk arts, EFDSS aims to place the traditional arts of England at the heart of our cultural life – preserving, protecting, disseminating and promoting English traditional folk arts. A member based organisation, EFDSS delivers a dynamic education programme, providing a national and local education programme, enabling and increasing access to the folk arts, celebrating diversity and promoting equality – as well as supporting folk artists through a flourishing artists development programme. EFDSS' library, the Vaughan Williams Memorial Library – the national folk music library and archive – which contains a vast collection of books, manuscripts, films and audio-visual materials, serving as a touchstone for anybody working in the folk arts. www.efdss.org
2. The National Youth Folk Ensemble is supported by: Arts Council England as part of EFDSS' National Portfolio Organisation funding agreement 2015 – 2018.
3. EFDSS is supported by Arts Council England. Arts Council England champions, develops and invests in artistic and cultural experiences that enrich people's lives. We support a range of activities across the arts, museums and libraries – from theatre to digital art, reading to dance, music to literature, and crafts to collections. Great art and culture inspires us, brings us together and teaches us about ourselves and the world around us. In short, it makes life better. Between 2011 and 2015, Arts Council England will invest £1.4 billion of public money from government and an estimated £1 billion from the National Lottery to help create these experiences for as many people as possible across the country. www.artscouncil.org.uk
4. Sam Sweeney is Artistic Director of the National Youth Folk Ensemble. Awarded the coveted BBC Radio 2 Folk Musician of the Year 2015, Sam is an exceptional fiddle player and multi-instrumentalist who has made his performing mark through his duo with Hannah James, as a member of Jon Boden and the Remnant Kings, and most notably as a member of folk super-group Bellowhead. An exponent of English traditional music, Sam also performs with some of today's most acclaimed English folk bands including Fay Hield and The Hurricane Party, Eliza Carthy and The Wayward Band, and founded Leveret with Andy Cutting and Rob Harbron. Sam is an experienced folk educator who has taught at Folkworks Youth Summer School, Aldeburgh Young Musicians and the English Acoustic Collective Summer School, as well as running his own fiddle workshops for advanced players.
5.Join The Conversation