National Youth Choirs of Great Britain announces composers joining their Young Composer Scheme
31st January 2020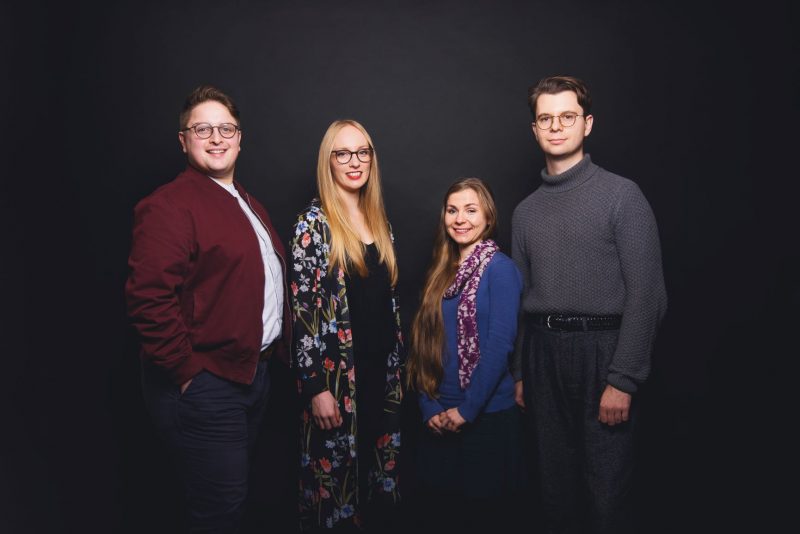 National Youth Choirs of Great Britain announces Four Talented Young Composers Chosen to Create Innovative New Music for Vocal Ensembles
National Youth Choirs of Great Britain (NYCGB) is delighted to announce that following a highly competitive application process, the four successful young composers selected to join the second edition of its Young Composer Scheme are (left to right):

• Nathan James Dearden (27), from Rhondda Cynon Taf, Wales
• Amy Bryce (25), from Sussex
• Lisa Robertson (26), from Lochaline, Scottish Highlands
• Joseph Bates (28), from London

Nathan, Amy, Lisa and Joseph were selected following an extensive nationwide marketing campaign. Eight candidates were invited to a half-day interview and immersive group workshop with NYCGB Artistic Director & Principal Conductor Ben Parry and Digital Partner NMC Recordings General Manager, Eleanor Wilson.

The Young Composers Scheme offers four composers aged between 18 and 29 a fully-funded, year-long programme of professional development, including the unique opportunity to write music for NYCGB's choirs. Following a successful first year, it aims to challenge perceptions of choral music through support in development, innovation and diversity. Running across a whole year, the scheme comprises residential courses, workshops, peer and professional mentoring and performance showcases including a high-profile launch event at the Royal Albert Hall in London.
The four composers will work with their peers in the National Youth Choir and NYCGB Fellowship Scheme over the coming year to create new music and receive opportunities including a recording session for a worldwide digital release on NMC Recordings. A digital album of their works will be released in early 2021.
Ben Parry said: "I am delighted we have selected the new cohort of Young Composers working with us in 2020. We had an amazing field of applicants and the chosen four spoke so brilliantly and enthusiastically about their work and the opportunities they'll get writing for NYCGB."
NMC Recordings Executive Director Anne Rushton said: "Following the highly successful launch of the Young Composers Scheme – and the release of the album which in only two weeks has been streamed more than 24,000 times worldwide – we are thrilled to welcome four new composers."
Composer Lisa Robertson said: "I'm so happy to be participating in this wonderful scheme. I'm really excited to be writing for such fantastic young singers and to have the chance to explore new ideas during the great programme of opportunities throughout the year."
Composer Nathan James Dearden said: "I am overwhelmed to have been selected for this residency. Exploring the theme of one's cultural identity this year with this wonderful community of musicians is one close to my heart, creating music with the singers, for the singers."