Music teachers and students invited to join classrooms nationwide in 'joyful' music-making programme
6th October 2021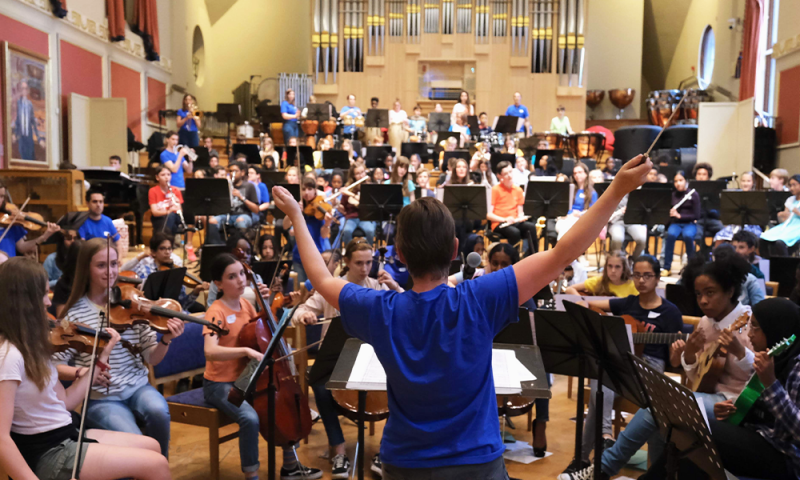 With the 2021-22 academic year now in full swing, Orchestras for All is announcing the new season of its Modulo Programme in a bid to improve access to music-making for young people in the UK.
After almost two years of unprecedented challenges faced by music teachers and their pupils as a direct result of the pandemic, the inspiring initiative has been specially designed to support under-resourced schools and community groups to set up their own inclusive orchestra, known as a 'Modulo'.
A Modulo can be of any size, from four to 15, and is open to all skill levels and to any instrument – from violins and ukuleles, trumpets to melodicas.
Throughout the season, individual Modulos are brought together with others from across the country (either in person or online) at dynamic 'Modulo Meets', giving participants the opportunity to experience the magic of playing in a large-scale ensemble.
A recent student participant said: "Thanks all of you – this is one of the best days I've ever had!"
Claire, a music teacher at Heworth Grange School in Gateshead, said: "It has been so hard with all the [coronavirus] restrictions, so finally getting to do a proper rehearsal was brilliant – the pupils loved it! I can already see new friendships forming and they have the 'status' of being part of the Modulo Orchestra. This is known by their peers and they're proud of it!"
Despite government guidance around social distancing, bubbles and the termination of instrumental lessons, the Modulo Programme has reached 43 schools over the past year and engaged with 323 students – from Bradford to Aylesbury, Gravesend to Liverpool.
Repertoire for the 2021-22 season, titled 'The Way We See It', includes 'Spoitoresa' – an arrangement of a Balkan gypsy dance performed by Bucharest-based band, Mahala Rai Banda, Purcell's 'Rondo' from Abdelazar Suite (made famous as the theme to Britten's 'Young Person's Guide to the Orchestra'), excerpts from the fourth movement of Alice Mary Smith's Symphony in A minor as well as 'Crossfade' by Jack McNeill, a recent commission exploring electronic dance music and the orchestra.
A team of professional instrumentalists from Orchestras for All's partners – BBC Philharmonic and City of London Sinfonia – will also be on hand to provide their expert insights and motivate the next generation of musicians.
To register your school or community group for the Modulo Programme, please complete this form.