Music Mark Annual Conference 2019: How We Played the Bigger Game
28th November 2019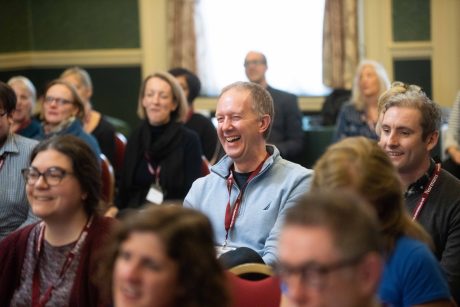 Music Mark's Annual Conference visited Sheffield this year for two days of discussion, debate, networking and workshops in the magnificent Cutlers' Hall. With the theme of 'Play the Bigger Game – Partnership, Collaboration and Enterprise in Music Education', the event saw over 350 delegates, exhibitors and speakers come together to discuss topics including inclusion, wellbeing, Ofsted, early years, composition and creativity, jazz, using technology in the classroom, organisational resilience for Music Hubs, and connecting with musicians in your local community.
The conference opened with a message from the former Mayor of Sheffield, Magid Magid. He was meant to be attending as a keynote speaker but was called to Brussels for an important vote. He took the time however to send a video message of welcome and encouraged delegates to tell young people that their music 'has the power to get people through the day, give life meaning and most importantly to inspire and empower others'. The second keynote – delivered by Susanna Eastburn, CEO of Sound and Music – explored the results of consultation with the music education sector around composition, pointing out that 'creative skills are the ones that will be most useful in the future'.
Over the two days of the conference there were 30 sessions which provided opportunities for music leaders, classroom teachers and leaders of music education organisations to learn from projects from across the country.  From Devon to the Tees Valley, what became evident is that there are many exciting opportunities for children and young people to learn and make music together, but also that there is more to be done to increase access and diversify the opportunities.
Throughout the conference, music making could be heard in workshops and the exhibition space.  There were some special musical moments including performances from Doncaster Music Hub's great young jazz group, Full Fat Funk, and some Friday Afternoon songs by pupils from Kingswood Parks Primary School in Hull in celebration of Benjamin Britten's 106th birthday. Children, young people and music leaders from various Sheffield Music Hub partnerships introduced the conference dinner with an exciting fanfare.
Having presented Music Mark's refreshed vision and mission and current strategic aims at the start of the conference, Bridget Whyte, CEO, discussed the vision with a panel in the final session.  Matt Griffiths, CEO of Youth Music, challenged everyone to 'grasp the nettle and come up with new models' and NYO composer Alum, Lizzy, urged delegates to 'redefine excellence, appreciate all forms of music and be creative'.
Music Mark closed the conference by announcing that the 2020 conference will take place on the 19th and 20th November, in Brighton.