Music For Youth's National Festival takes place 6 – 10 July 2021, including a live, Covid-safe two-day event in Birmingham Symphony Hall
13th May 2021

Our traditional festival format has been re-imagined, considering the substantial impact of the pandemic on young people and their music making over the last year. Our Festival theme – REMIX 2021 – has been chosen to reflect this and we want to celebrate the many ways that teachers, music leaders and young people have adapted, innovated, reconfigured and rearranged how they make music together.
The festival will take place from Tuesday 6th – Saturday 10th July 2021 with a blend of online activity throughout the week including highlights from the brand-new MFY Video Wall as selected by young people; and some exciting live Covid-safe events in the newly developed Symphony Hall, Birmingham on Friday 9th and Saturday 10th July.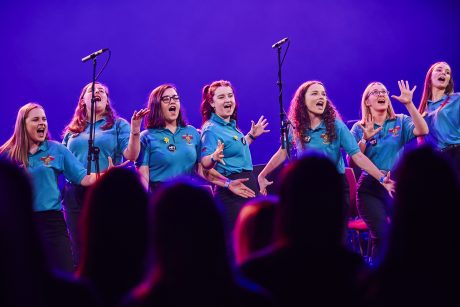 The live element of the festival in Birmingham is a welcome, but cautious return to live national music education events and will feature a programme of workshops from artists such as Mark De Lisser, National Youth Choirs GB and MFY Music Mentor Patrick Bailey. Groups attending will be invited to perform or simply to take part in workshops and enjoy the performances of others. Attendance will be strictly by invitation only, via established MFY partners, to ensure that the event is Covid-safe.
To get involved in the National Festival and be featured alongside other groups, ensembles and individuals from across the UK, you can submit a video to be included on the National Festival Video Wall. You will receive written feedback from a Music Mentor and have the opportunity to book a slot with one of our experienced Music Mentors through the new 'Mentor On Call' scheme.
Keep an eye on our website and sign up to our newsletter to stay up-to-date with other fantastic digital content across the festival week.
To find out more and to sign-up, visit: NF.MFY.ORG.UK
The deadline for submissions to the Video Wall is Monday 24th May, 5pm