Music For Youth: #ThankYourMusicTeacher
12th October 2023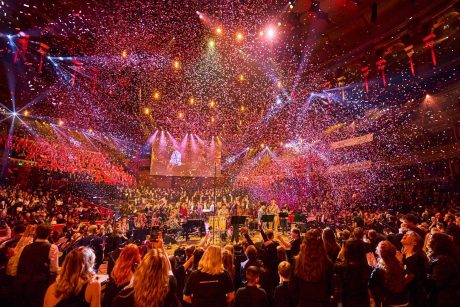 Music for Youth Announces 2023 Proms at The Royal Albert Hall and a National Campaign to Celebrate Music Teachers
On 14 & 15 November, over 3,000 young musicians from across the UK will perform live on-stage at the Royal Albert Hall for two unforgettable nights of music in the biggest and most exciting Music for Youth Proms ever.
Amazing young musicians from over 100 schools will perform new music and traditional repertoire spanning multiple styles and genres on the iconic Royal Albert Hall stage. The gala concerts include orchestral classics, Irish dancing, concert bands, choirs, jazz, and pop bands. The diversity of the Music for Youth Proms showcases the breadth of talent being nurtured in schools across the UK thanks to inspirational music teachers.
The theme for the 2023 Proms and now a national campaign is titled 'A Thank You Note'. It celebrates the life-changing impact of music teachers and how music unites us all. Musicians young and old, famous and emerging, will come together to thank the music teachers and mentors who have inspired them. Music Mark are delighted to support Music For Youth's #ThankYourMusicTeacher campaign.
Thank You notes and video messages dedicated to inspirational music teachers will be shared throughout the Proms, on social media and in the national press as part of this major campaign. The 'Thank You Note' music has been composed and arranged by MFY ambassador, radio presenter and composer, Jack Pepper, taken from his musical 'Duet' about his own inspiring music teacher.
Jack Pepper, Music for Youth Ambassador, said: "This is a hugely personal campaign for me – a tribute to my own piano teacher, who turns 80 next year, and who has inspired a new musical from which the campaign song, In Tune, is taken. We want to celebrate the unsung heroes of music education – the support structures around our young people, the little-publicised names behind famous musicians, these real-life dream makers who give young people vital confidence as much as they do technical expertise. This will be MFY's biggest undertaking in its 50 year-plus history and we can't wait to get started. Nothing brings us together more than music – let's celebrate those who make that possible."

 
Get Involved
There are more ways than ever before to get involved in the Proms. Any style of musical group can sign up to form part of the largest ever massed ensemble that Music for Youth has produced. Families can sign up to sing together in a 'Family Chorus', and there will be a call-out for a solo pianist to open the show on both nights.
How can you support the campaign?
This celebration is all about the incredible impact that music teachers have on our lives. From igniting a passion for music to helping us find our voice, these amazing educators truly change lives. Music has the power to bring together people from all walks of life, creating a sense of unity and connection. You can support the campaign by:
Following Music For Youth on social media at @musicforyouth
Sharing your Thank You notes and video messages across socials @musicforyouth or via email to: marketing@mfy.org.uk
Nominate your music teacher by emailing marketing@mfy.org.uk with no more than 200 words describing how your teacher has made an impact on you to be in with a chance of winning a private box at the Royal Albert Hall and a special thank you to your teacher live on-stage at the Proms!
Using the #ThankYourMusicTeacher