Learn to Play Day 2020 – Opportunity to participate
27th February 2020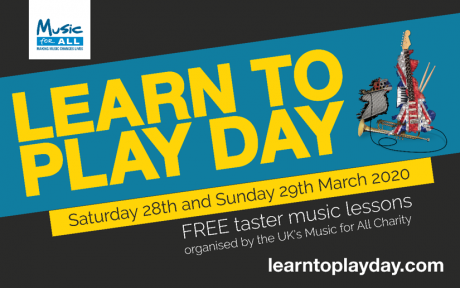 The opportunity is here for your organisation to participate in this wonderful musical initiative – Learn to Play Day. It will give you the chance to take new pupils on board and to promote your work in the community, whilst spreading the joy of music!
This national event (organised by the Music for All charity) is to inspire new and lapsed musicians to take up playing an instrument by driving footfall into UK music stores and other venues. The 2020 event will take place on Saturday 28th and/or Sunday 29th March.
The basic premise is to offer the general public 'taster' lessons in order to quickly show them that they CAN be a musician.
Music for All will send you a pack of posters and flyers that you can put up in your local area to advertise your Learn to Play Day event, as well as balloons and other materials to use on the day. Your event will be displayed on the official Learn to Play Day map on the website which will be linked to in all press and PR, and we will use our public social media pages to promote and share your posts.
After being launched nine years ago, Learn to Play Day has helped thousands of people pick up a musical instrument and learn to play. This includes people who have never played before, and people who played as a child but gave up.
If you would like to host a Learn to Play Day event or find out more information then please visit Music For All or contact hello@musicforall.org.uk