Last chance to book an online audition with the NYCGB!
8th October 2021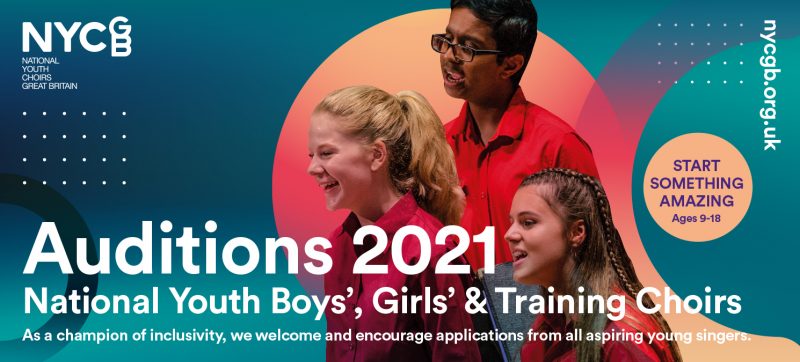 IT'S YOUR LAST CHANCE TO BOOK AN ONLINE AUDITION!
National Youth Girls', Boys' and Training Choirs of Great Britain
Booking closes 10 October 2021
Our friends at National Youth Choirs of Great Britain (NYCGB) are looking for talented young singers aged 9-18 to audition for three of its national choirs and there are just a few days left to book an audition!
If you have a passion and talent for singing with others that you want to take to the highest level, along with a readiness to learn, then an NYCGB audition can be the start of something amazing for you.
Members receive the best choral training possible including unbeatable opportunities to develop skills in music, performance, recording, leadership and teamwork, and to grow in confidence and aspiration. You'll sing alongside the most gifted young singers in the UK, developing your skills to the highest level, and making life-long friends.
NYCGB passionately believes that choral singing is for everyone and strongly encourage all talented young singers from all backgrounds and musical styles to audition, particularly young people of Black, Asian & ethnically diverse backgrounds and those who are disabled or from lower income households. Financial assistance is available to cover the £20 fee and anyone on free school meals can audition for free.
Although many young people may not have been singing as much as they usually would over the past year, NYCGB is keen to hear as many young singers as possible and their welcoming and friendly auditions panel is ready and waiting to work with young singers and meet them wherever they are at.
Ben Parry, NYCGB's Artistic Director & Principal Conductor said:
"We're looking for the most talented signers across the length and breadth of the country to audition! It's never been more important to emphasise that we want to meet singers from all backgrounds and across all musical styles. We particularly encourage young people of Black, Asian & ethnically diverse backgrounds and those who are disabled to audition. We are also determined that household income should not be a barrier to being part of NYCGB and our Financial Assistance Scheme is there to support those who need it, including the cost of an audition. We look forward to seeing you an at audition soon!"
Watch NYCGB's auditions film: https://youtu.be/S7qJ7SGPM6I
Find out more / book an online audition: https://www.nycgb.org.uk/girls-boys-training-choir-auditions
---
Apply for an NYCGB Fellowship!
The deadline to apply for NYCGB's Fellowship scheme has been extended to Friday 15th October 2021, 2:00pm!
NYCGB Fellowship is an outstanding full-year development programme for four emerging young professional choral leaders. The programme invites applications from outstanding young choral musicians who want to develop their skills as performers, educators, leaders and professionals.
NYCGB Fellowship engage in an annual programme of performance, training, delivery and personal development. The 2022 Fellowship will first meet for the Introduction Weekend in January 2022 alongside NYCGB Young Composers. They then come together throughout the year, culminating in the NYCGB Annual Showcase at the Royal Albert Hall in early 2023.
Ben Parry said: "The Fellowship programme offers unparalleled opportunities for emerging professional musicians to enhance their career prospects. The professional development and training received on this widely-respected programme is of the highest quality, and participants are mentored and inspired by leading national and international industry professionals. Our programmes are open to all, and we are striving to build an inclusive community and achieve meaningful and balanced representation in the areas of composition for vocal ensembles and choral leadership. We actively encourage applications from individuals who are currently under-represented in the choral domain, including young people of Black, Asian & ethnically diverse backgrounds. We also welcome applications from disabled people and those from lower income households."