Introducing Music Mark's Autumn 2022 Programme of Events
20th July 2022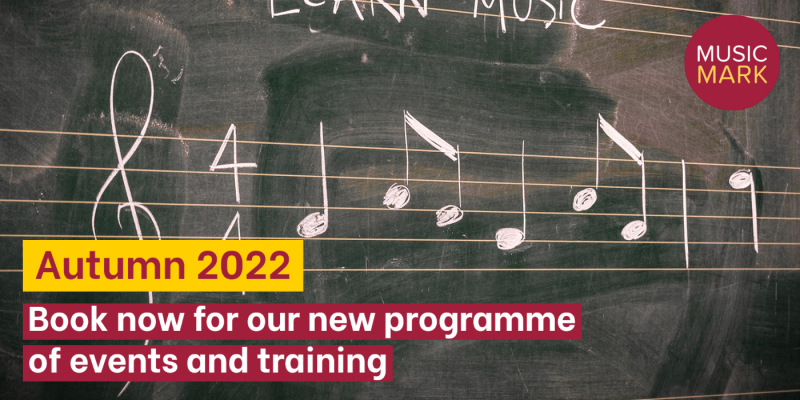 As we begin a new academic year, we've shared some of our events we are looking forward to this Autumn term, from expert-led webinars to practical training sessions. Whether you're a peripatetic tutor, a school music lead, or the director of a Music Hub, we're sure there'll be something for you in our programme of events. Add these dates to your diary and follow the links to book your place.
---
The National Picture
Music Hub Partnership Models with Arts Council England, 21 September
What could a Music Hub Partnership look like? As part of the Arts Council's conversation and consultation phase of the Music Hub Investment Programme, we'll be co-hosting an online event with ACE in September, exploring different partnership models across the arts, culture and education sectors, including research on current Music Hub Partnerships by Andrea Spain. Book your place.
Ofsted Update on Music in Schools, 5 October
Join Ofsted's HMI National Lead for music, Christopher Stevens. During the session, Christopher will provide information about the features of effective assessment in music. This session will last 1 hour, including 15mins for Christopher to take questions. Find out more and register here.
Music Mark Talk into Action Conference series, 9 – 25 November
This year, the Music Mark Annual conference is coming to a city near you! With a theme of Talk into Action; Equity, Diversity, and Inclusion, the conference series will have sessions relevant to Music Education practitioners at all stages of their career. The series will take place across five events in four different regions and online, with more people than ever before invited to take part. Find out when and where you can join us. 

---
Workforce Development
The North West conference, 2 September
Music practitioners are invited to join us at Chetham's School of Music in Manchester for a day of learning and sharing to inspire you ahead of the new academic year, with keynotes from Faz Shah and Kris Halpin. Tutors and teachers working for hubs and services in the North West should speak to their hub or service about booking. All other tickets can be booked here.
High Impact Senior Leadership course, 29 September – 30 March 2023
Formerly known as Six Dimensions of Leadership, this revised and new for 2022 development programme is led by Andy Hind and explicitly designed for Heads of Service and Senior Leaders in Music Hubs. The course helps develop leadership skills, thinking and practices, allowing organisations to foster 'followship' principles and ensure good succession planning for solid and expanding futures. Find out more and book here.
Getting the Sound Right: Setting up and sharing live audio, two-part series beginning 11 October
Join us for a two-part series on the technical elements of live sound, PAs and Microphones run by Russell Seymour and Paul Bullimore. From using analogue microphones to checking line level inputs, and from amplifiers to speaker types, understand how to problem solve and improve your sound quality for on-stage and in-person sessions and events. Book here.

---

Growing your impact

Why Music X Music Mark event series, beginning 21 September
After a powerful and inspiring first series, we are so excited to return with a second series exploring diversity in music education in collaboration with Why Music. Curated by  Nate Holder, these events explore overlooked and marginalised genres within music education, from grime, trap and pop, to Hindustani music. Find out more and sign up here.
Keep an eye on our full list of events to look out for on our Events page.