International Women's Day: NYJO's Emerging Female Jazz Artists
5th March 2020
In celebration of International Women's Day 2020 Music Mark spoke to NYJO about the work they've been doing with emerging female jazz artists. 
NYJO works tirelessly to close the gender gap that has dominated the music scene, for example when recruiting young musicians for our professional ensembles. Firm believers in the importance of positive role-models, we are dedicated to ensuring everyone in our workshops and gig audiences feels seen and represented on stage.
In the spirit of International Women's Day, our upcoming album, She Said, celebrates women's voices and their immeasurable contribution to jazz music today and throughout history.
For this Music Mark article, we have picked two musicians from our ensembles for emerging professionals – the Jazz Orchestra and the Jazz Exchange.  These are two emerging artists we think you should know the names of We've asked them about their personal experiences as female jazz musicians and about which female jazz artist they're influenced by.
Olivia Murphy – Composer, Jazz Orchestra (Instagram: @aivilomurphy)
Olivia is a saxophonist and composer based in Birmingham. She has joined the Jazz Orchestra in January 2020 as the ensemble's composer. During her time at the Royal Birmingham Conservatoire, Olivia was the only two-time winner of the coveted RBC Jazz Composition Prize.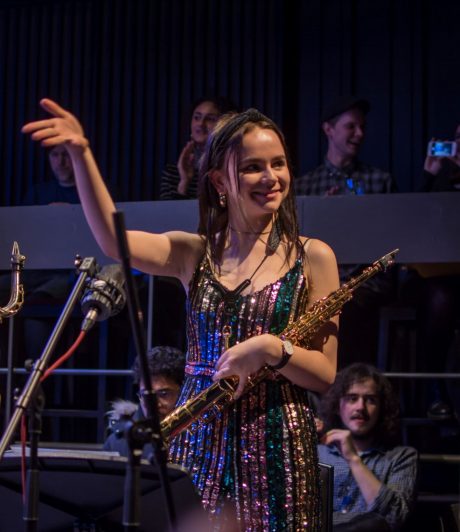 "I found particularly with jazz musicians the trickiest hurdle is sometimes feeling isolated; if you are the only female on a jazz course, for example, it can be difficult to feel like there is anyone to talk to who can relate with issues you might be going through. This is definitely improving over time but it's still not something that can change overnight, and I think there could be a better support system for people feeling like this. Another thing is stereotypes which can be frustrating and deflating to constantly deal with; in my experience this is rarely from other musicians, more so from venues, promoters, audience members and even teachers! It's really inspiring however to see movements and initiatives coming together over the last few years to encourage more girls to play, support/ fund female and non-binary musicians, ensuring a more balanced and diverse programme at events and venues, helping to reduce (and hopefully abolish) these stereotypes that female musicians can sometimes be challenged by.
Maria Schneider has to be one of the most important influences for me of all time regardless of gender. I remember in my first year of Conservatoire her and the orchestra came to Birmingham and I was lucky enough to attend a few workshops with her, as well as watching the gig. Her writing is so inspiring to me and seeing her direct the band and hearing her music live was one of the first times I realised I wanted to do something similar as a career. On the U.K. scene Norma Winstone and Nikki Iles have always been amazing and inspiring to me as both musicians and composers; Nikki Iles' Printmakers band was a big influence on me forming my sextet."
Rosie Frater-Taylor – Guitar, Jazz Exchange (Instagram: @rosiefratertaylor)
Rosie is a guitarist, ukuleleist & singer-songwriter. She is part of the recently launched Jazz Exchange programme. Now 20 and mid-degree at the Royal Academy of Music, Rosie has been involved with various branches of NYJO since she was 13.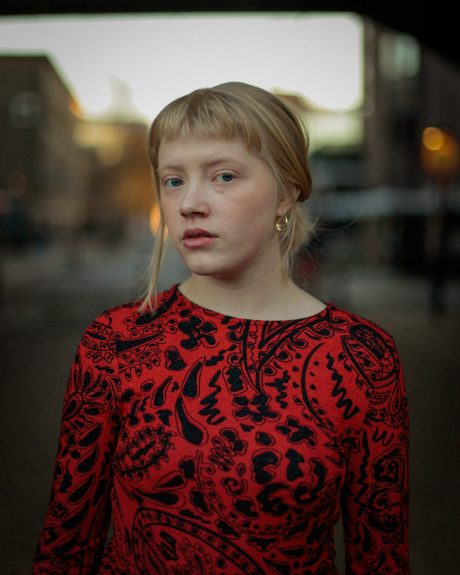 "Having such a historical, supportive organisation like NYJO on my side these past seven years has certainly eased my path to forging a career in this tricky industry. I've never felt in a minority as a female instrumentalist, but I can see how fortunate I was to have had Gemma Buckenham as band leader at the NYJO Academy and really supportive parents growing up.
I think by 16 or so people are committing to the choice to see jazz as a hobby or a career path.  I think maybe young women are more conscious of 'sensible' career paths and communicating the valid career paths in jazz to this age group would be really helpful. I do think it is important for people like myself to be communicating the validity of being a professional female musician/instrumentalist to younger girls. I think it's important to demonstrate that it's an achievable goal for anyone but especially girls. It can only be a good thing seeing someone slightly older doing what you want to do.I felt incredibly inspired when I went to see Becca Stevens live for the first time – she has really influenced my career path to date."