Improvising on a Theme: The story of the Birmingham Music Service New Book by Cormac Loane
1st September 2020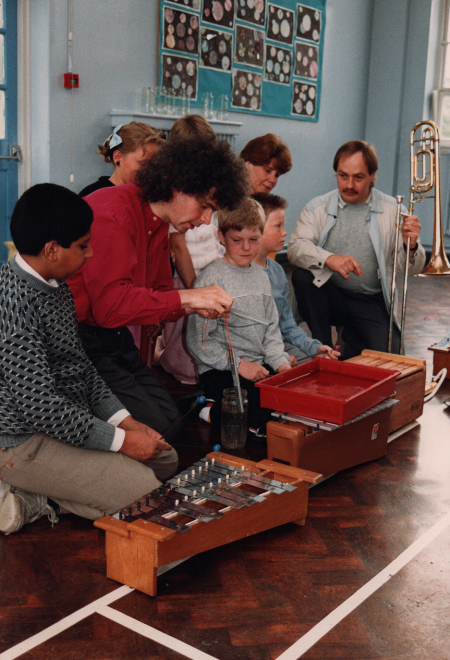 This book tells the story of the development of the Birmingham Music Service over the 29 years that I worked for the organization, as well as its earlier and more recent history. The book also explores the possible future of English music services within a political and educational landscape that has changed beyond recognition in recent years. In the course of the book, I explain my belief that the development of local authority music services has been one of the great educational achievements in this country, as well as one of the best examples of music education anywhere in the world. And l explain why I think that the Birmingham Music Service has been a particularly outstanding example …
(From Improvising on a Theme: The story of the Birmingham Music Service, Introduction, Cormac Loane)

As we move through the greatest health and education crises within living memory, the future of English instrumental music teaching has never looked more challenging. As I write this article, heads of music services around the country are, in their time-honoured tradition, thinking creatively, to find ways of maintaining high-quality music education for children, notwithstanding the difficulties we are now living through. I believe that at this time, more than ever, we need to remind ourselves of the immense value of English music services – which represent, in my view, one of the great educational achievements in post-war Britain – in order to ensure that the lives of children continue to be enriched through music.
Improvising on a Theme explores four main areas in which creativity and innovation have led to the massive success of music services in Birmingham and other areas of the country: the curriculum, pedagogy, diversity and leadership.
Since the birth of the Birmingham Music Service nearly 60 years ago, we have seen a huge broadening of the instrumental music curriculum available to young people. Instrumental music teaching was first introduced in Birmingham schools to provide a pool of players who could be drawn upon to populate the Birmingham Schools' Symphony Orchestra. So, initially, only classical orchestral instruments were taught, and there were no opportunities for involvement in any musical styles outside of the Western symphonic tradition. This gradually began to change, however, so that by the early years of the 21st century, Birmingham Music Service ensembles included rock bands, jazz groups, Asian music ensembles, steel bands and gospel choirs, as well as the more traditional symphony orchestras, wind bands and brass bands.
Since its inception, the Birmingham Music Service's focus on authenticity in learning has been at the heart of its pedagogy. So, as soon as the Birmingham Schools' Symphony Orchestra was created in 1964, it began to give public performances in professional musical settings, such as Birmingham Town Hall. And, throughout the service's history, children have created music alongside top professional musicians. Simon Rattle (see image above), for example, worked on composition with junior school pupils as part of the Adopt a Player scheme in the 1980s. And when professional conductor Michael Seal took over as director of the Birmingham Schools' Symphony Orchestra in 2007, the orchestra attained levels of performance that had not previously been imagined because, in the words of a colleague, 'Michael Seal puts no ceiling on what can be achieved by young musicians.' In 2015, the Birmingham Music Service established a partnership with South and City College so that the city's young rock musicians could avail of the college's authentic rock performance venue – a stage with tiered seating, along with professional lighting and recording equipment. Head of Service at the time, Ciaran O'Donnell, told me, 'We have always been concerned with providing authentic musical experiences so that we are replicating the music profession for our students. And performing in appropriate venues is a large part of that.'  Another example of the service's innovative pedagogical thinking is the way that, over the years, the traditional one-to-one, musical-notation-based approach to instrumental teaching has increasingly been replaced by collaborative group work, often based on playing by ear.
From the 1970s onwards, the Birmingham Music Service began to demonstrate great innovation and creativity in the way it celebrated the rich diversity of England's second city. As well as including Asian music groups, steel bands and gospel choirs among its ensembles, the service has provided opportunities for pupils to play Irish traditional music, and to compose and perform music in the Islamic tradition. And, over time, the service has greatly increased its provision for ethnic minority pupils, although it is recognised that there is still much more work to be done in this area. The service has also been innovative in providing opportunities for special educational needs and disability (SEND) children. In 2015, for example, the Birmingham Music Service led the way nationally in establishing a partnership with the One-Handed Musical Instrument Trust to pilot a teaching and research project whereby children in mainstream schools with upper limb disabilities received tuition on adapted instruments.
Following the dictatorial style of Birmingham's early music advisers, towards the end of the 20th century the Music Service began to develop much more collaborative, collegiate approaches to leadership and professional development. In the early 2010s, this came to fruition when the Birmingham Music Service's 'Professional Conversation' became the basis for teacher's professional development. The Professional Conversation was an open-ended conversation between two colleagues on an equal level (rather than a boss-employee conversation), and its aim was to promote a deep level of reflection, leading to one or more agreed areas of development for the teacher to focus on. This agreement would emerge solely from the Professional Conversation and would be personalized according to the needs of the individual teacher, without being compromised by the distractions of target-setting or any externally imposed, predetermined criteria. Birmingham's Professional Conversations were strongly welcomed by Music Service teachers as a meaningful basis for their professional development, as well as receiving recognition at a national level.
I believe that an understanding of the principles that have driven the success of English music services is now more vital than ever – so that instrumental teaching can continue to flourish, with high-quality musical experiences being available to all children, notwithstanding any difficulties that may lie ahead.
By Cormac Loane
Buy Improvising on a Theme: The story of the Birmingham Music Service here
Readers are able to access a discount here
Author Biog:
Following his graduation from the University of London Goldsmiths College, Cormac Loane worked as a saxophone player 'on the boats' and at the Empress Ballroom, Blackpool, during the late 1970s. In 1980 he started his career in music education, teaching woodwind instruments for music services in the London area, including the Inner London Education Authority. In 1984 he was appointed Head of Woodwind for the Birmingham Music Service and was later promoted to Deputy Head of Service – a role he continued to occupy until his retirement in 2013. Loane is co-author of the series of music tutor books Team Woodwind.