Herefordshire Music Service examine the benefits of Music Education beyond music itself
16th February 2018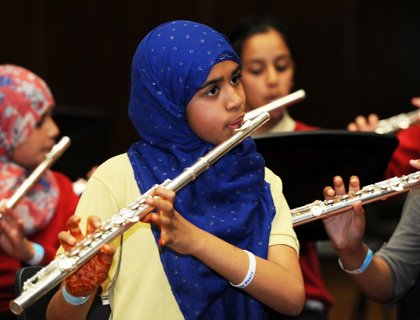 Correlation, Causation, Coincidence?
by Cliff Woollard, Head of Herefordshire Music Service
We all know the benefits that Music Education brings beyond music itself. It is something that all music services and music hubs 'get,' as do the majority of our schools. In Herefordshire we have a year on year growing number of schools engaging in Whole Class Ensemble Tuition (WCET). Despite a highly respected and variable offer, there are two main reasons why our schools choose not to offer the programme to their pupils; firstly schools (particularly the smaller rural schools) struggle to find the budget to buy it in and secondly, others are struggling to find the time in the curriculum. Whilst we have come up with a variety of programmes to help schools, we felt that we needed to find a stronger educational argument. We needed facts!
So, recently we compared those schools who engage in WCET in Herefordshire against OFSTED School gradings. We found no real correlation between OFSTED School Grading and WCET.  We then considered the impact upon our work with pupils themselves. We looked at the KS1 To KS2 progress for schools and compared this with schools who engaged in WCET. We were very surprised with what we found!
The average 'reading progress' score for schools that have WCET delivered by Herefordshire Music Service is 132% higher than those that don't.
The average 'writing progress' score for schools that have WCET delivered by Herefordshire Music Service is 21% higher than those that don't.
The average 'maths progress' score for school that have WCET delivered by Herefordshire Music Service is significantly higher than those that don't.
Herefordshire Music Education Hub offers a programme of delivered KS1, KS2 and KS3 projects for a year. In addition, we support schools who wish to deliver the programme themselves with a 'DIY' model linked to Charanga. Thus, for the results below we have given a variety of statistical information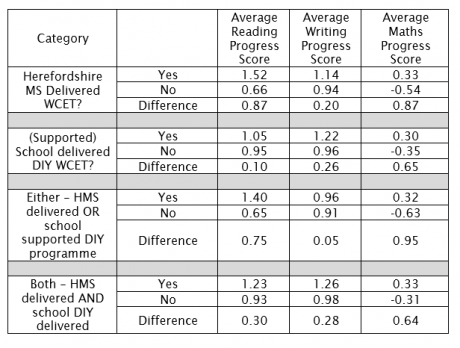 Causation – The question is to what extent WCET has affected the progress of pupils during their KS2 educationCorrelation – The data shows there is a direct correlation for pupil progress between end of KS1 and end of KS2 tests and those who have received WCET
Coincidence – There has been excellent progress made by primary schools in Herefordshire in recent years. This is down to the hard work of their Governors and Staff. Do the results demonstrate that those schools where excellent pupil progress is made are those same schools who understand the benefits of musical opportunities (such as WCET), and therefore choose to offer it to their pupils? Herefordshire Music Service wouldn't argue that it's all down to our WCET programme! Surely it simply isn't a coincidence?!
This article is not about proving anything about WCET or indeed the WCET offer in Herefordshire – although I must admit to it crossing my mind with marketing WCET! It is of course one bald statistic from an afternoon's work. We share it to get everyone (schools, music services, hubs, the sector) thinking about the differences we make to the lives of our children and young people beyond 'music.' We will never be able to quantify our impact. What we do know is that good partnerships between music services/hubs and schools will inevitably help each and every one of our pupils to progress.
Data Notes
The table shows how much progress pupils at the schools made in reading, writing and maths between the end of key stage 1 and the end of key stage 2, compared to pupils across England who got similar results at the end of key stage 1.
The scores are calculated by comparing the key stage 2 test and assessment results of pupils at this school with the results of pupils in schools across England who started with similar assessment results at the end of the previous key stage – key stage 1.
The school data used is that published on the .gov website for 2017
We used 2016-17 Herefordshire Hub data for WCET engaging schools
Sandwell Music Education Hub have also published an article about the connection they have found between school's engagement with music provision and their pupil progress measures at KS2. Another great read and not to be missed!