Guildford County School's Artist in Residence Programme
5th September 2022
At Guildford County School, our focus is firmly rooted in experiencing sound as the core element of all that we do, both in the classroom and on the concert platform.  Composition allows us to develop the "eyes" and "ears" for possibility and, hopefully, ones that ignite and remain curious and questioning.
Our focus with our Artist in Residence scheme is to create opportunities for young professional musicians to work alongside, inspire and enhance our students' musical experiences. This not only helps to bring fresh perspectives and musical insights that develop their own skills, but also offers an insight into what life at a Conservatoire and a career in music might look like.
We welcomed Sam Gale as our first Artist in Residence. Currently studying for a master's in jazz composition and arranging, Sam is a composer, conductor and alumnus of Guildford County School. From the age of 6, performance and brass playing has been at the heart of his inspiration, accumulating passions for composition, arranging, and conducting along the way.
Sam studied at the Royal College of Music Junior Department (RCMJD) for 8 years and b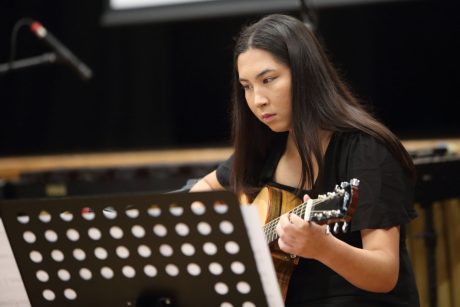 ecame principal trombone of the National Youth Orchestra in 2016. He has competed in the BBC's Young Musician of The Year Competition and was awarded a place at the LSO Brass Academy. In 2016, he became the first conducting student at RCMJD and made his debut working with Mark Anthony Turnage. In the years that followed, he gained a First-Class Honours Degree and the Concert Award for Outstanding Performance for his classical undergraduate studies at GSMD.
Sam has gone on to shape a career across the UK as a performer and composer. He has conducted orchestras and ensembles in venues such as Birmingham Symphony Hall and LSO St Luke's, as well as directing his own 85-piece ensemble, Capital Orchestra, at Cadogan Hall.  He has had the opportunity to feature his compositions and arrangements alongside composers and bandleaders such as Tim Garland, Nikki Iles, Callum Au, and Jim McNeely, as well as conducting and arranging for the Guildhall Studio Orchestra's most recent project 'The Great American Songbook' in Milton Court Concert Hall.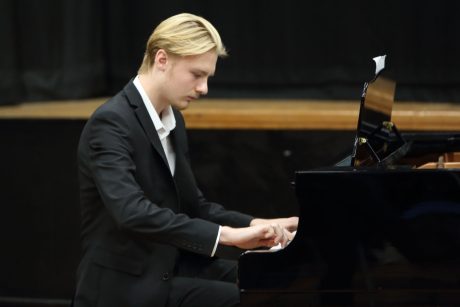 Within his residency at our school, Sam explored the concepts of melody and shape in a collaborative project for our A level Music and Music Technology Students. Our students created short 2 – 3 minute pieces for their own instruments, to be performed live selecting a diatonic mode and one of three given overall shapes. This gave an added dimension, in particular for our Technology students, as live instrumental performance, per se, is not an examined requirement of the course. Students were also asked to select either reverb or delay which was to be used and manipulated as "felt" during the live performance.
Sam's practice is based on the exploration of possibilities using a variety of approaches. Quality is an abstraction, for a creative endeavor to be successful, we must see all the way around it and understand what is possible. There also needs to be an awareness of balance, inconsistency, variation, and deliberate change. For this to be ignited, there needs to be a starting point, based on what the students see as possible.
Our students had the opportunity to "go beyond" and "step away" from the traditional exam curriculum in order to engage and connect as both composers and as performers in a more holistic way.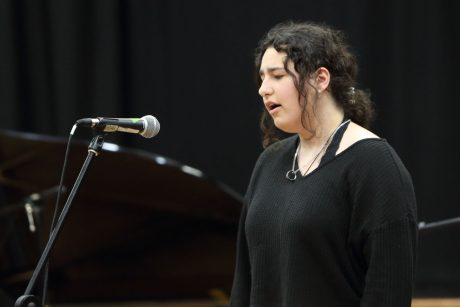 As composers we are required to actively think about the impact of sound and the language of music for our intended result. Exploration is key to this and allowing a student to control their own parameters allows for a less guarded approach. To this end, the repeating theme throughout the workshops and 1:1 lessons was always on our students being the "experts of their own instruments"; communicating to themselves as performers, before considering their audience. Considering how to balance simplicity with complexity; removing the notion that there is always a right or wrong answer.
Starting with a few notes that ensured clarity of intention, students were encouraged to be comfortable with selecting only four pitches but playing sixteen in total to encourage the development and exploration of phrase lengths, silence and rhythm before moving on to include tone production and discussion about the start, middle and end point of a sound in conjunction with expanding range, textural and dynamic nuances.
Once the framework of the compositions was established, Sam's work became more nuanced. Discussion centered around how to create the idea of harmony when only writing a melodic line; how to phrase for impact; understanding what ebb and flow means and allowing things to change and considering which parameters we have the least control over.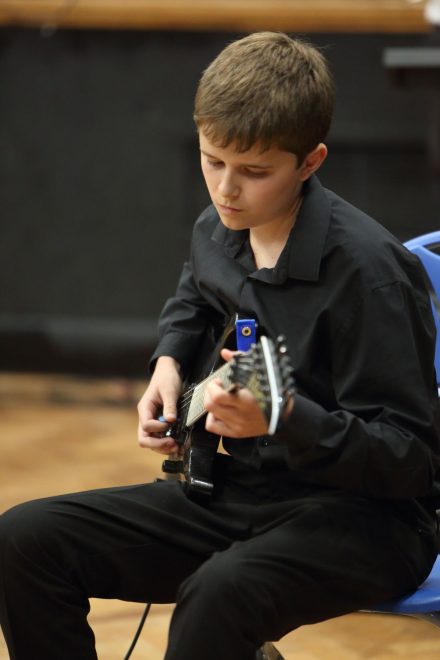 In the final stages leading up to the performances, Sam discussed how to consider taking things out of students comfortable range; why flipping  the intervals can create unity; what the purpose of dynamics are and why ensuring that performing each note is intentional and fully expressed.
Our students have said how much they enjoyed not worrying about being "right and wrong" and that they felt they could trust themselves far more as a result of this project. They felt that they were more honest in their approaches but found, at first, stripping things back to only a few notes a challenge. This quickly passed as they developed the idea of "phrasing without boundaries" which led to a "different way of thinking" and one that was not overly dependent upon the grammar of harmonic "rules."
They particularly enjoyed the improvisatory and exploratory aspects of lessons as these focused on the immediate and encouraged creative, expressive responses alongside a degree of risk taking.
Our workshops afforded students the opportunity to be active in their listening and they became readily open to new perspectives which in turn, developed confidence to perform their pieces live in an equal, level playing field.
They truly were experts of their own instruments.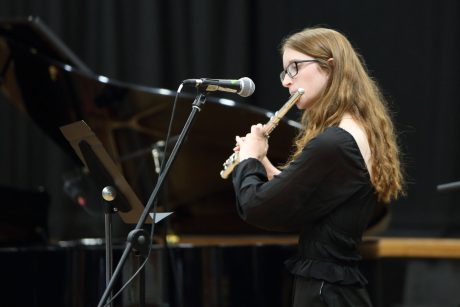 Words by: Caroline Gale
Director Of Music; Head of Creativity
Guildford County School
Specialist Music College
Photo Credits: James Prickett