Get Playing! Music Mark launches new campaign to celebrate musical learning
7th June 2021
Music Mark has today launched a new campaign called Get Playing which celebrates the many benefits of musical learning. With a new webpage and original illustrated resources, it aims to encourage young learners across the UK to connect with their local music hub/service to Get Playing – whether that means learning to sing, play an instrument, or simply taking an interest in the wealth of musical opportunities available.
To make it even easier for parents, families, and those interested in music education to connect with the UK's music hubs/services, the webpage features a 'Find my local music service' tool. Try it here. 
The campaign is the latest in a number of Music Mark advocacy campaigns over the last few years including 10 Things Schools Should Know About Music. This new initiative emerged from conversations with Music Mark members around the UK telling of the huge and varied impact of the pandemic.  It is clear that over the past year there has been a significant effect on the music education sector due to concerns and caution surrounding the spread of coronavirus through singing and other musical activities.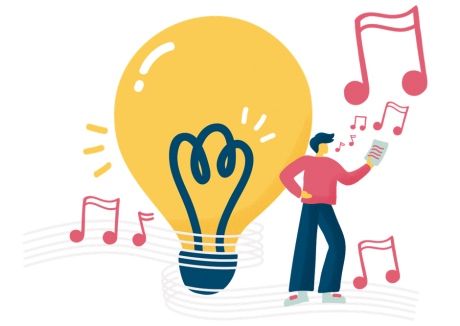 In particular, the recruitment of new young musicians has been severely disrupted,  not least because many music centres around the UK have been unable to fully open for almost an entire year.  A significant aspect of Get Playing is therefore to signpost parents and families to these centres as the 'go to' places for musical learning as well as celebrate the joy and reassurance music has brought to many throughout this challenging time. On social media, you can join in with the campaign and celebrate musical learning in all its forms with #GetPlaying.
Bridget Whyte, CEO of Music Mark said:  Over the past 18 months it has been fantastic to see so many young musicians engage with online tuition, recording their parts of multi-track performances and coming together as ensembles for social gatherings and activities despite not being able to  play together online due to latency.  However, it's been hard for music services around the country to introduce youngsters to the instruments they might want to learn, get them signed up and subsequently get them started.  There have been some great projects across the country to try and drum up interest in musical learning, but the whole process of picking an instrument and getting started has been hard to replicate online.
We are hopeful that as we return to face-to-face learning and visiting music teachers are back in schools, Get Playing will help parents and families understand why learning an instrument, singing and composing or producing music is such a great thing and can then find the support they need to engage with the network of great music teachers that work across the country.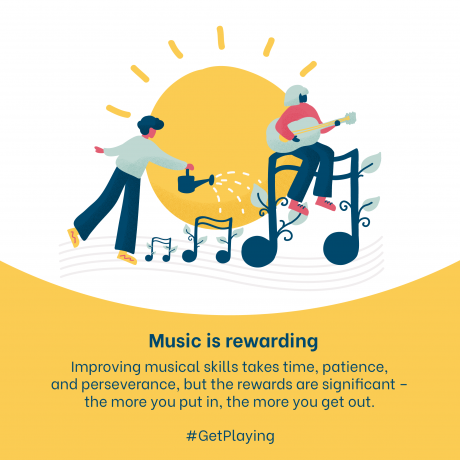 In practical terms, Get Playing also provides Music Mark's member Hubs/Music Services with resources which are free and ready to use, enhancing and supplementing their own student recruitment activities. This includes a set of digital assets for social media, a customisable poster, a marketing pack, and a webpage. The resources explore 10 benefits of musical learning and feature original illustrations by designer Esther Shelley, supplying Music Mark member music hubs/service with hassle-free marketing materials. All 10 of the illustrations are displayed on the webpage with more information about each of the benefits. Like the 10 Things poster and booklet, these resources will also soon be available in Welsh translation.
Visit Get Playing to see all 10 of the illustrated tiles and let us know what you love most about musical learning on Twitter with #GetPlaying