French Horn Player Felix Klieser makes his UK debut at the OHMI Gala Concert
30th July 2018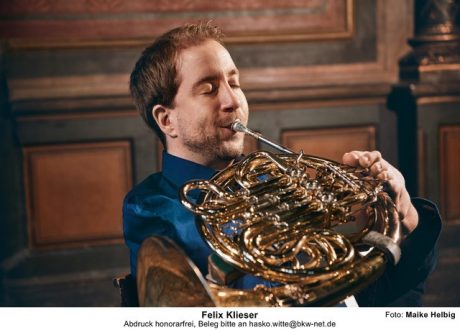 Felix makes his UK debut at the 2018 OHMI Gala Concert with a programme which includes one of the most popular works ever written for his instrument: Mozart's French Horn Concerto.
Felix Klieser was born with no arms, but that hasn't stopped him from becoming a world-renowned horn player. Felix operates his horn's valve levers the toes of his left foot and manoeuvres a mute in and out of the horn's bell with his right foot.
Unlike able-bodied musicians, Felix can't alter the sound made by his horn with his hand. Instead, he uses just his air stream. "If I want to play an emotion," explains Felix, "I think of something, like being in a bath of warm water when it's raining outside."
Felix hasn't let his disability hold him back and has produced three albums with Berlin Classics, received the prestigious ECHO Klassik award for young artist of the year and published a book detailing his extraordinary musical journey.
This year, Felix will make his UK debut in Birmingham at the OHMI Gala Concert, a celebration of virtuosic performances on enabling instruments.
Read more about the 2018 OHMI Conference and Awards – Music and Physical Disability: From Instrument to Performance