Every Copy Counts launches Annual CopyCat Challenge
20th June 2022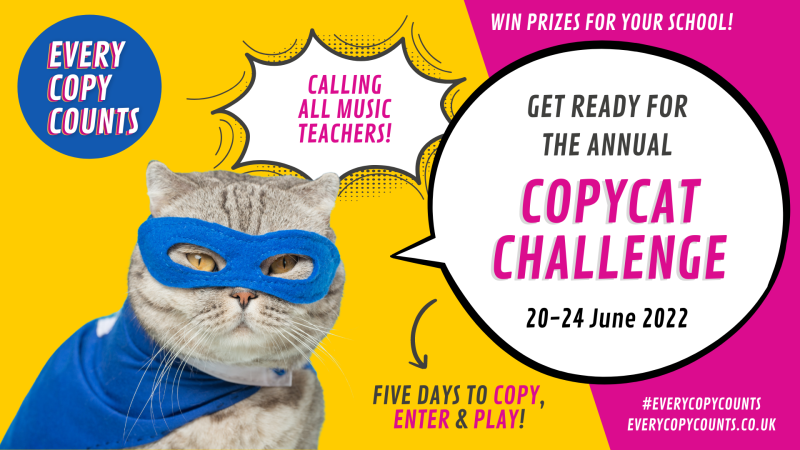 Taking place this week (20 – 24 June) across the country, the CopyCat Challenge is an online, end-of-term initiative designed to encourage the mass inputting of sheet music usage data from schools across the country.
All State schools across England, Scotland and Northern Ireland benefit from a free Schools Printed Music Licence that enables teachers to copy and arrange music freely while ensuring musicians receive the correct royalties. Administered by Printed Music Licensing Limited (PMLL), the licence gives teachers access to a wide range of repertoire from composers and songwriters, allowing them to make arrangements of the music to suit the needs and abilities of their students. Fees paid to PMLL are distributed to publishers and, in our, the music creators themselves, based on usage data supplied by schools as part of the terms of their licence.
Abigail D'Amore, a music education consultant, is leading PMLL's 'Every Copy Counts' campaign, to raise awareness of  the licence and help teachers comply with its terms by logging data on the music that is being copied or arranged.
She said: "We are excited to confirm the programme of events for our inaugural CopyCat Challenge Week, which includes exclusive interviews with EMMY, BRIT and BAFTA award-winning composer, music historian and broadcaster Howard Goodall, TV and film composer Michael Price (Sherlock, Dracula), the release of a brand new work for mixed ensemble by Samuel Coleridge-Taylor arranged by Bobbie-Jane Gardner and Geoff Hannan; a music publishers' panel, a 'teacher exchange' best-practice sharing networking group, and a drop in session for teachers to access support to submit their data correctly.
"We also have a host of prizes for teachers taking part in the CopyCat Challenge, including money-can't-buy tickets for next year's Ivor Novello awards, a Samson Expedition XP800 PA system, £50 and £100 vouchers for publications from Faber Music's Education Catalogue,  and a 12-month Ultimate membership for Musical Futures Online. Every school taking part in the event will qualify for a 15% discount at MusicRoom.com while the first 10 schools to upload their data will win a Samson Meteorite USB microphone.
"We're really excited to get this inaugural event underway and are looking forward to engaging with music teachers to deliver a fun-filled week of activities, all while ensuring fees for music used in schools are distributed fairly and accurately to music creators."
To take part in the challenge, simply sign up for an account on the PMLL website (https://hub.pmll.org.uk/) and then enter 'The Big Five' sheet music essentials (Composer or arranger; Title of work; Title of book; Music publisher; and Print publisher) during 20-24  June.
To find out more and take part in the Annual CopyCat Challenge, visit everycopycounts.co.uk/events/the-annual-copycat-challenge-2022