Education Secretary announces 6 new opportunity areas
19th January 2017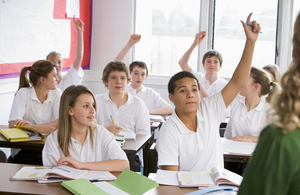 Speaking at the offices of PwC at an event jointly hosted with the Sutton Trust, Education Secretary Justine Greening set out the role of education in removing obstacles to social mobility, and the importance, as Britain prepares for its future outside the European Union, of ensuring that all young people can fulfil their potential.
Justine Greening said:
As the Prime Minister has set out, we are facing a moment of great change as a nation. With our departure from the European Union, we will need to define an ambitious new role for ourselves in the world. For Britain to succeed we must be a country where everyone has a fair chance to go as far as their talent and their hard work will allow. Education is at the heart of that ambition, and is central to breaking down the barriers to social mobility that too many face in our country today.

I want to see more disadvantaged young people attending the very best universities, winning places on apprenticeships, entering the top professions, and progressing through the most rewarding careers – and I want employers to do more to draw out the potential and talents of all.