Children and local MP bring history to life
29th November 2018
Children from Portsmouth Schools were at Parliament on Tuesday (27 November) to play their part in history and celebrate the centenary of women's right to vote. Beneath the statue of Millicent Fawcett, the Suffragette campaigner, children from Charter Academy, Cottage Grove Primary School, Craneswater Junior School, St. Edmunds Catholic School and St. Swithin's Catholic Primary School sang 3 new songs commissioned by Portsmouth South MP Stephen Morgan.
The special performance was a collaboration between Schools, Portsmouth Music Hub and Stephen Morgan, and it was an opportunity for the children to learn more about the sacrifices made by the men and women of the Suffragette moment. On the 21 November 1918, immediately after the First World War, Parliament finally passed The Representation of The People Act of 1918 which gave women over 30 the right to vote; this was the children's chance to celebrate this landmark in history.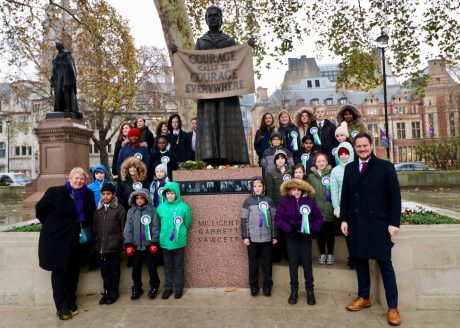 The songs, created by Portsmouth Music Hub composers, included Deeds Not Words, The Suffragettes, and Hear our Voice. The children, dressed in suffragette rosettes gave a performance of the songs to invited guests, delighted tourists and members of the public outside Parliament before Stephen Morgan took the children inside Parliament for a very special tour of the historic building.
Sue Beckett, CEO of Portsmouth Music Hub, said: "Children from Portsmouth Schools have captured an important moment in time, when our country took a leap towards a fairer world, and the children's performance evoked the struggle of the Suffragette movement; the passion, the dedication and the courage. We're very grateful to Stephen Morgan MP for commissioning the songs and giving the children the opportunity to perform at Parliament. Music really can bring history to life and the children's performance has been a celebration of all the progress made to end discrimination in our laws and in our lives."
To see the children's performance at Parliament visit www.portsmouthmusichub.org.uk.