#CanDoMusic launched today!
11th August 2020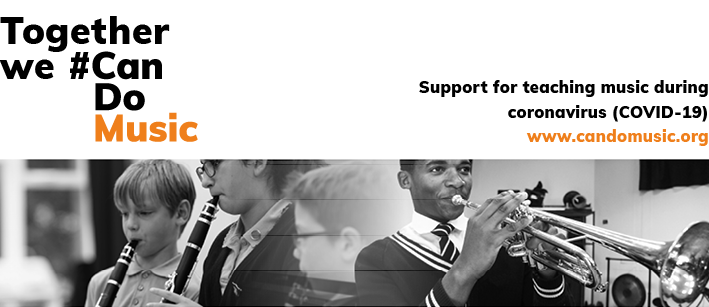 The ISM, Music Mark and the Music Teachers' Association (MTA) have launched a UK-wide campaign #CanDoMusic. This campaign, launched as schools return in Scotland, aims to ensure all children and young people can resume their musical learning this autumn. Its mission is to celebrate and unlock the innovation of music teachers and senior leaders, to share practical ideas and resources that will deliver music in engaging and inspiring new ways, and to support schools in ensuring that music plays a central role in rebuilding their school communities.
Music is hugely important to the school community and to the wellbeing of pupils and teachers. It helps drive achievement and test the capabilities of pupils of all ages and provides unique, sometimes life-changing experiences for young people.
For all this, schools already grappling with the logistical, budgetary and educational complexities of returning in the autumn may assume that there are significant challenges when trying to put music at the heart of school life.
#CanDoMusic is a solutions-based campaign to help schools and music providers overcome these challenges.  It aims to equip schools and other education settings/providers with clear guidance, resources and practical and creative ideas, so that they can make music happen in and out of the classroom. It also seeks to ensure that music is at the heart of post-lockdown school life.
This campaign has two strands:
A website www.CanDoMusic.org which acts as a signpost to practical resources from across the music education sector that teachers can explore and use to ensure that music is part of the solution in every school's recovery plan.
A social media campaign #CanDoMusic which has started an online conversation, directs people to the website and helps to share and signpost great ideas, resources and solutions for keeping music at the heart of learning for all children and young people from the start of the autumn term.
You can join in by:
Sharing your resource URL, where it should be categorised on the website and no more than 30 words contextualising what it is and who it's for with fi.simpson@musicmark.org
Share your stories and support on social media, just use #CanDoMusic when you post.
Bridget Whyte, Chief Executive of Music Mark said:
'Music has been important to us all during the past four months, keeping us going through the lockdown. As students return to school full-time, it must be at the heart of their day-to-day life.'