Bridget's Blog: Supporting Music Teachers and Music Hub staff at a Critical Time
28th February 2022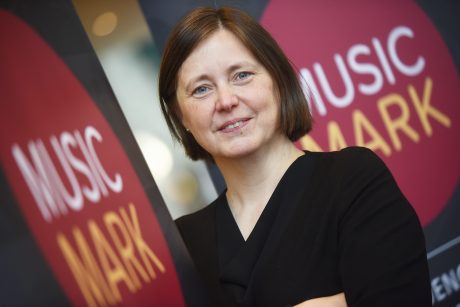 Your teaching and wider staff teams are invited to sign up for Music Mark membership free of charge, as part of your existing membership package.
Sitting in a meeting of heads of music services in Scotland last week I found it interesting to hear them talk about some of the concerns I am hearing from colleagues in England, Wales and indeed in Northern Ireland (I was grateful to finally get there for a visit last Friday!).  Whilst it is in a way comforting to know that everyone is in the same position, that position is not a great one just now. There are gaps in the music education eco-system that Music Mark's working to help to fill.
The pandemic has had many impacts on us all, and for music education a key impact has been that of a diminishing workforce.  There are of course a number of reasons for this, and actually the pandemic is only partly to blame, but it remains that we are seeing a national shortage of instrumental and vocal teachers and other skilled individuals to work in the sector.  Ever the optimist I'm hopeful that this is a 'blip' and we will see more graduates joining the profession over the coming years, and even some of those who moved away from teaching in the past few years returning.  But we do need to recognise the challenge the sector faces and both the stress it is having on leaders and the impact on the ability to ensure all children who want to learn can.
Simply plugging the gaps in the workforce isn't necessarily going to ensure quality though.  I'm sure there are many final year students considering a career in music education who will have a good foundation to build on but they, and those returning, need continuing professional development too. I would hope that some of the tools, guidance and training Music Mark is providing will support them. We have a teach-meet coming up on the 15th March which is an opportunity for teachers to share advice and experience with one another and the next CPD day on the 25th April focusses on Jazz and Improvisation.
Furthermore, for our instrumental and vocal workforce the imminent publication of the 'refreshed' A Common Approach will provide a comprehensive set of guidance which will complement practical training and work experience.  I'm also very aware of lots of great support, resources and training available through the many industry partners who work with us to support the sector – a quick look at the Music Mark resources pages will demonstrate that.  But I would also suggest that as is being discussed in Scotland, we could perhaps consider looking at how we come to a common agreement on what knowledge and skills might be expected and enable our teachers to thrive in the profession.
Also, although our instrumental and vocal teachers are how we can look to achieve our vision of accessible, excellent musical learning for all young people, the sector also relies on a network of administrators, instrumental technicians, business managers, leaders and voluntary boards.  There are gaps in the pipeline for all these areas of the profession, and all of these people also need support, resources and training and Music Mark has developed its offer to do just that. You can find out more here.
Over the past two years, accelerated thanks to zoom, we have developed a growing number of peer groups for administrators and instrumental technicians.  We're also provide business training in budgeting, finance and evaluation and our Six Dimensions of Leadership course remains a popular opportunity for leaders to refresh their skills and for others to consider how they can develop to be the leaders of tomorrow.
And we've recognised that support in the governance of the sector is also crucial and are pleased to have a growing network of Music Education Hub Partnership Chairs.  This group of people who have agreed to help govern the hubs in England supporting the hub lead organisation and its partners to deliver the ambitions of the DfE's National Plan for Music Education are a vital part of the ecology and it is good to be able to help them network and learn from each other.
If you would like to know more about what we can do for your staff teams please do take a look at our current training opportunities here encourage your staff to sign up for membership and subscribe to our mailing lists
Bridget