Bridget's Blog: Turning an idea into a plan, and talk into action  
14th February 2022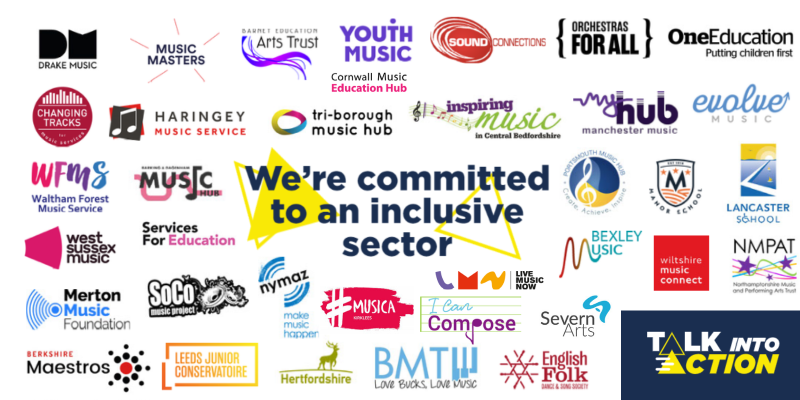 I have always found starting new projects exciting; taking an idea and discussing where it might lead, developing a plan to implement it, and starting a to-do list of actions in order to get started.  The only thing is that the bolder the idea, the more you need to unpack it before you can start…
Developing an Equity, Diversity and Inclusion (ED&I) project across all areas of Music Education – from governance and workforce to engagement and resources – is one of our boldest ideas yet. It followed the pilot work Sam Stimpson did for us in London around diversifying the workforce, and the challenge within her report to turn all the positive talk into actions.
Although it was overwhelming to even begin to think what it might look like, we felt sure it was a good idea and one we needed to consider ourselves, as well as supporting our membership and the wider sector to consider too.  So, as a first action, we brought together a national focus group of individuals and organisations leading the way in addressing ED&I to present our idea; was it over-ambitious of us to push not just ourselves but also others from the sector to move from talk into action?  What would that actually look like in practice?  What support would individuals and organisations need and who would provide it?  And did we really mean ED&I across all protected characteristics?
By the time of the Music Mark Conference, we were ready to publicly launch our idea as Talk into Action. To do so we felt that we needed something to get people started – an action following the presentation (the talk) that I gave!  So we invited people to pledge to come on the journey with us, being very aware that Music Mark too needs to take action, and that we will all need support, resources, and – crucially – time in order to do so. We are delighted that 60 have already signed the pledge and have agreed to a number of action-based commitments. Is the organisation you work for one of them?
As for us, we've slowly begun to turn to talk into action, but what does that look like at Music Mark? So far, we've appointed an ED&I Lead on the Board, we've signed up to take part in the guided IM IN process run by Music Masters, and we have had some very interesting and enlightening conversations as a team which have made us all, especially me, think and reflect (something the focus group agreed was an action in itself). We've also been pulling together resources and events that we think may help everyone to 'think and do'.
In the coming weeks we're going to be announcing some of the details of our plans for the 2022 Music Mark Talk into Action Annual Conference along with a call for content.  No spoilers, but as you might expect, we'll be inviting people to provide sessions which are more than just 'all talk'.  Of course we want to hear about the successes (or not) of projects and programmes which have been developed and delivered to address ED&I, but we hope that every presenter we are able to invite to speak will provide inspiration and action points colleagues can take away and implement.
Talking is good and extremely important, but where can that conversation lead?  What is the next step, the action, following that conversation?  What ED&I action will you add to your to do list?
Bridget
Talk into Action is an Equity, Diversity and Inclusion movement for the Music Education sector. Visit the site here, sign the pledge, and find out more.