Bridget's Blog: Programming a conference in the 'new normal'
13th September 2021
This week, following the announcement of two new keynote speakers for our 2021 conference, CEO Bridget Whyte reflects on the process of planning five Music Mark conferences over the years and what we have learned. 
One of the first jobs I was asked to do when I started at Music Mark as the interim CEO (prior to interviewing for the substantive position), was to programme the 2017 Annual Conference – the biggest event in the Music Mark calendar.  It was early June with the conference set to take place just over 5 months later!  The venue was booked, Warwickshire Music Service were looking forward to helping programme some performances across the two days, and I had a handful of emails that had been forwarded to me by Jem Shuttleworth (my predecessor) of ideas from the membership for sessions, but I have to admit I was a bit daunted by the blank piece of paper that was the programme.
I think luck was on my side that first year and I managed to pull together a conference schedule – with lots of help from colleagues across the membership – and hand it to our Conference Manager, Zoe Coakley, who made it the success it was!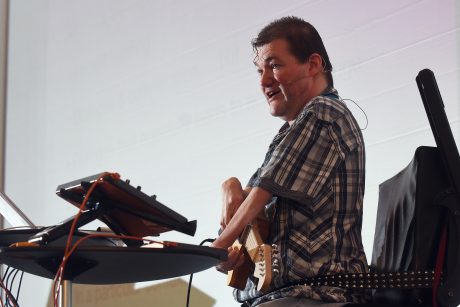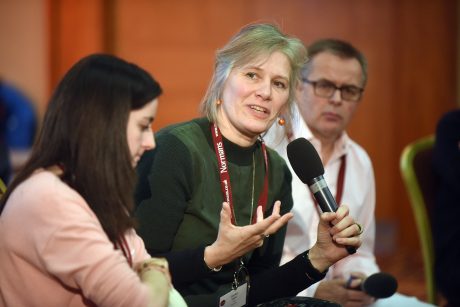 We now start planning the annual conference over a year in advance. Indeed, we have already identified a theme, visited venues and shared ideas for content, speakers and so on for 2022 (but that's all still under wraps for now).
As you would expect, each year I hope that our conference will be better than the last, learning from the evaluation we receive, and I think this year's conference – Fast Forward: Technology and Music Education – will be our best yet.  We have a fabulous host and keynote speaker,  BISHI, who is joined by two other great keynote speakers – Kris Halpin and Warren Knight– and the programme of breakout sessions is really exciting.  But perhaps the thing we're most excited about is planning a 'live' conference after 18 months of digital events.
We booked the venue – the Hilton Metropole on Brighton seafront – back in early 2019. It was just when we were preparing to share the full programme last Summer that we had to make the difficult (but ultimately right) decision to move the conference fully online, following a continued rise in coronavirus cases.   Fortunately, we were able to move our booking over to this year and with everything crossed, we are now gearing up for two days of keynotes, workshops, a conference dinner, an exhibition, and plenty of breaks for networking on December 2nd and 3rd.
Around the town here in Winchester there are posters which appeared last year with the words 'Back to Normal' on them.  I understand (having just Googled it) that they are part of a campaign which was trying to challenge the government's handling of the pandemic.  But every time I've passed one, recently it has made me think about something one of our past Music Mark Chairs said.  Nigel Taylor worked with us last year on a guide to resilience during the pandemic and I remember his sage words to me that when we did eventually emerge from all the lockdowns and restrictions, we wouldn't simply go 'back to normal' and that we would probably need to think in terms of a 'new normal'. Of course, there will be elements of our lives which will go back to the BC (Before Covid) era, but I expect most of us would agree that some things will never be the same again, and that in many ways, that's a good thing.
Whilst it has been a very difficult 18 months for us all personally and professionally, there are lessons we've learned which have transformed the way we work and live our lives.  And (perhaps you can see where I'm going with this…) the Music Mark conference is a great example of lessons learned and transformations made. Whilst much of our conference takes a traditional format, with two days of keynotes, panel discussions, workshops, a conference dinner and exhibition, we are also embracing our learnings from last year. Yes – whether, you like the term or not, we're going 'hybrid' in 2021!
We really hope many of you will want to join us in Brighton, but we're also pleased to be providing plenty of content on our conference website with 'On Demand' presentations, digital resources, and  virtual exhibition. Programming a conference which lasts eight weeks rather than two days seemed crazy in 2019 (and would have had me running away in 2017!), but that's what we've done!
The conference website will go live on the 25th November the week before we're in Brighton. We'll broadcast some of the sessions – including all our keynotes – live, and after those who have joined us at the venue have helped us to drink all the coffee, grab handfuls of the pens, pencils and other bits of 'merch' from the exhibition and walked with us back up to the station, the website will keep going and we'll add content from the two live days so we can watch it again and again.
I had chosen the topic for this year pre-pandemic, but not only are we going to talk about Technology and Music Education, but we're going to be a living example of how technology is changing the sector. I hope you'll join us and share what you've learned during the last year and a half.
Find out more about our 2021 hybrid conference, Fast Forward: Technology and Music Education.