Bridget's Blog: Campaigning to celebrate musical learning, from Why Music to Get Playing
20th September 2021
When parents and carers are often the decision-makers in what children learn beyond the classroom, it is essential that we can get them on board with musical learning. CEO Bridget Whyte reflects on Get Playing – our latest national campaign to celebrate the benefits of music and signpost parents to local music education providers…
My parents got me singing from a very early age and decided I'd learn the violin when I was just 4 years old.  Neither of them had musical parents but both trained as music teachers and I think were keen for me (and my brother) to learn an instrument.  I've never asked them, but I'm guessing they recognised the many benefits of learning an instrument and I certainly feel that I am more confident in front of people having performed from an early age to others (including being asked to stand on a table as a 4-year old to demonstrate something – I can't now remember what – as part of a training session my Dad was involved in with Hampshire Music Service back in the 70s!).
However, there are many parents and carers who are not as aware of all the various benefits (and fun!) their child can gain from learning a musical instrument.  With the introduction of whole class instrumental tuition in schools they may well see some positive outcomes which they might perhaps attribute to this, but as the decision makers in what children learn beyond the classroom, how do we help them to understand why taking up an instrument can be so beneficial – socially, physically, emotionally, and holistically?
When I started at Music Mark there was a stack of boxes in the office full of leaflets linked to a programme called 'Learn Music London'.  Part-funded by the Mayor of London and the ABRSM, it aimed to support music services in London to argue the case for musical learning with parents specifically.  There was a website with an interactive map to help people find their local music service and some videos of parents and pupils talking about why music was a great thing to learn. There were also little foldout publications called Why Music which we sent out batches of to every music service in London in my first few weeks at Music Mark. I was only once again reminded of these leaflets when I found one of them at the bottom of my desk when we closed the office last autumn.
Now, jump forward to earlier this year and a conversation which took place in the North East Regional Meeting. They were talking about coming together to run a campaign to help parents understand the benefits of musical learning to help with getting numbers back up after the pandemic…and I had an idea!  We could repurpose the little Why Music leaflet and develop a campaign which would support not just the North East hub partnerships but also hub partnerships and music services across the UK.
A few months later, we launched the national campaign Get Playing in early June. Rather than an interactive map on a rather unexciting independent website, we now have a postcode finder on our own site to help parents find their local music hub or service.  But I think the bit I love the most is our new set of engaging images and statements about why music is so great!
In preparation for launching the campaign, we identified 10 statements about learning music, added some explanations and links to research which backs them up.  We commissioned an illustrator to create an image for each statement and pulled the whole thing together into a poster as well as a set of digital 'tiles' which can be used in all sorts of ways. These are available to download in English or in Welsh – you can also use our #GetPlaying hashtag in Welsh – #TyrdIChwarae!  You may have seen one of these digital tiles as my footer on emails over the summer or on Twitter posted by one of the Music Hubs/Services, and I even remember seeing a short video from Plymouth Libraries who had printed off the poster to talk about the campaign and explain how to get involved with the local music hub.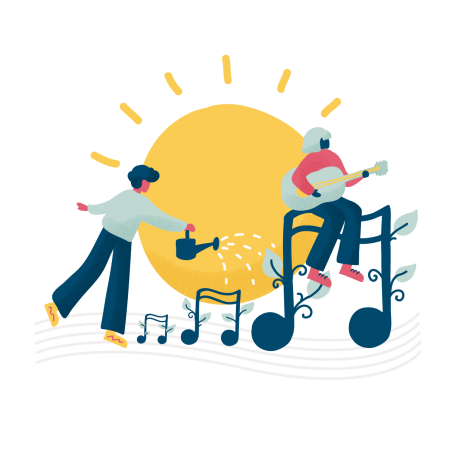 It is great to hear from around the country that interest in musical lessons seems to be picking up, although I don't think Get Playing can take all the credit! However, if we all work hard to highlight the importance of musical learning perhaps we will not only continue to see a rise in those taking up an instrument, but see a widespread understanding of the value of music in parents and carers who can then encourage their children to continue. After all, as one of our tiles says, a love of music lasts forever and one which brings so many benefits in practically every area of life.
Download our free Get Playing poster here. All Music Mark members can also download our full pack of Get Playing resources here. 
Tag #GetPlaying on social media to join the campaign as we celebrate musical learning together.