Bridget's Blog: And we're off! Bookings open for our Talk into Action conference series
7th September 2022
As Early Bird ticket bookings open for the Talk into Action conference series, CEO Bridget Whyte reflects on our learnings from previous events and what we're doing to make one of our most exciting conferences yet more equitable, diverse, and inclusive.
I've been at Music Mark now for five years.  When I started, the first thing I was told to work on was the 2017 Annual Conference.  The venue was booked and a few suggestions of possible workshops we could run had been made, but with just five months or so to set it up, it was a bit of a baptism of fire! I was just getting the hang of things when we had two very different years, quickly pivoting to a fully online event in 2020 and a hybrid event in Brighton in 2021.
Whilst all of this was of course challenging, the Music Mark staff team, and our wonderful freelance conference manager Zoe and our tech team (Titan) ensured that the show did go on.  And we learned so much from the experiences. So, in 2022 we are taking our learnings and are now ready to launch bookings for perhaps our most exciting conference yet.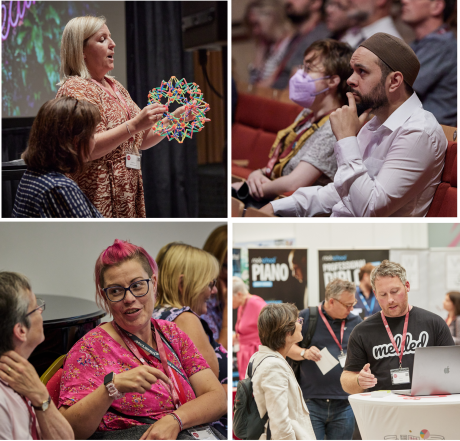 I say conference, but actually this year we're running a series of events under the banner of the Talk into Action Conference Series.  At our 2021 conference we launched the Talk into Action movement encouraging the sector to come with us on a journey to turn our talk about equity, diversity and inclusion (EDI) into action.  We identified four key focus areas in which our sector can improve to deliver enriching and inspirational music education to even more children and young people: workforce; governance; programming; and children and young people.
Since then, over 80 organisations have already pledged to join the movement and our 2022 conference series will hear about lots of the actions that have been taken so far. Our one-day regional events will look at how we embed EDI when working with children and young people and in the programming of music education, and our two-day conference in Newcastle (which will also have a one-day option) will look at the EDI of the sector's governance and workforce.
But a Talk into Action Conference Series needs to be in itself a demonstration of actionable EDI, so what are we doing?
We've programmed the conference in such a way that there will be plenty of content for everyone involved in Music Education; those who are at the chalk face, and leaders and governors
We've made the conference a series taking place in four different regions so that more music educators can access it. We're starting with a day in Bristol, then moving to London, Derby and then to Newcastle for two final days. Have a look at what you can expect from each day here
Every presenter has been given the challenge to ensure that the sessions they run will provide actionable content – ideas that everyone can go away and implement in their own setting
We're thinking carefully about access needs and doing all we can to remove barriers to participation, both in person and online
We're running a day which will be wholly online – five sessions broadcast from a studio we're setting up at MAC Birmingham
We're inviting some organisations to provide On Demand video content for our conference microsite
Every ticket bought for an in-person event will give you access to all the online content, including the day of online live broadcast on the 17 November (which will be recorded if you can't join us live for the full day)
The whole of the online day and some content we will broadcast live from Newcastle will be kept on the site until the end of March 2023
Ticket prices are hopefully more accessible this year too, thanks to our Industry Partners and particularly our sponsors, including ABRSM and Speedadmin
So, can you tell that I'm excited by this year's conference?  Over the coming weeks we'll be sharing more of the programme, but expect to see sessions which address many of the challenges we all have in ensuring music education is equitable, diverse and inclusive.
For now, you can take a look here to get your first glimpse of the content and choose where you would like to join us. Early Bird tickets are available to book until 14 October, before general release tickets go on sale at the full price.  So get booking now, and perhaps I'll see you in Bristol, Derby, London, Newcastle or online!
Bridget
Early Bird tickets for the Talk into Action conference series are available to book here.