Breaking boundaries to classical music with SEND pupils
29th January 2020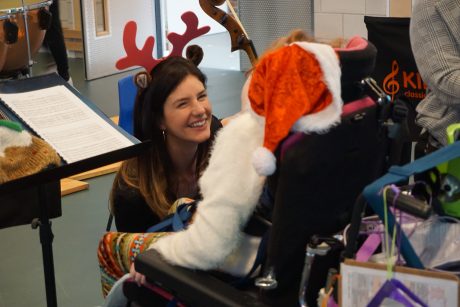 Kidenza brings the concert hall to the classroom for children with complex disabilities.
Chailey, East Sussex: The Kidenza Orchestra wowed a very special audience on 17th December 2019 when they brought their Christmas programme "Santa in Space" to pupils at The Chailey Heritage School near Lewes. Performing in their beautiful 'Dream Centre' the orchestra sat centrally in the room so that the audience could move in and around them with ease. Kidenza pianist and Director Stevie Higgins said it was "One of my best days as a musician ever.." and Claire Lambert, Managing Director and Founder confirmed "we will all remember this day for the rest of our lives".
Accessibility to concert venues or mainstream schools is impossible for some of the children at Chailey. After meeting the teachers, Kidenza worked with the school to create an 'open orchestra' with gaps between the musicians. This meant that children were able to get within the orchestra, experiencing sound, even when unable to hear or see. Carers were able to respond to the needs of each individual child; some felt the vibrations, some held an instrument and some were able to play. Joe had some wonderful help in the percussion section and commented "It was a particularly unique and special day and I feel both lucky and proud to have taken part". Resonance boards were placed on the floor for pupils and those in wheelchairs or on beds were able to come into this mobile audience and enjoy the concert with family and friends. Steve Dummer, Kidenza conductor said "Every Kidenza event is special but today was something else. I saw a little boy, who was deaf and blind, on the boards that were laid out and every time the music started, he shook the rattle he was holding very gently onto his face and stopped when the music stopped. It's a real honour to play there and I hope we do many more."

After the performance Ollie Dixon, a Chailey Hertiage teacher, said "You are the talk of the whole of Chailey and I think you will be for a considerable amount of time." Head Teacher Simon Yates said "Kidenza were the best performers I have ever seen at Chailey Heritage. Wonderful with our very complex children, superb to listen to, I have never seen such engagement from the children with people from an external organisation. Highly recommended, we hope to see them back soon". Kidenza are now planning another three concerts at Chailey Heritage plus bespoke workshops with their individual musicians for all fourteen classes. Find out more on their website.