Become a Teacher Ambassador with the Royal College of Music Museum
3rd October 2019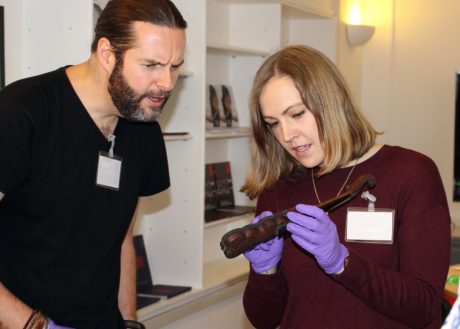 The Royal College of Music is redeveloping its building in the centre of London's South Kensington!
the new building will feature a brand new museum to house a musical collection including instruments to portraits, photos, drawings, sculptures and more, including the world's earliest surviving guitar!
The museum is due to open next year in 2020 and will offer a brand new learning programme for schools.
What is a Teacher Ambassador?
Teacher Ambassadors are current teaching professionals who join to form a small learning community with the museum. The aim is to share knowledge and expertise to support student learning in the museum and bring our heritage stories to life.
As a museum partner, you will:
| | |
| --- | --- |
| 1 | Discover an incredible collection of musical heritage |
| 2 | Have a chance to network and share with other professionals in the teaching/museum sector |
| 3 | Be offered cover fees of up to £200 for one Learning Day at the RCM |
| 4 | Benefit from free workshops or resource pilots with your school |
| 5 | Work with our brilliant student musicians and amazing collections |
What does it involve?
Learning Day | Friday 15 November 2019, 9:30am – 4:30pm
Professional development, networking and creativity at the RCM. Get hands on with some objects from our collections, meet other professionals from teaching/museum sector, and help us to create and develop ideas. Cover fees £200 provided.
Workshop/resource pilots with your school | 16 March – 3 April 2020
(with flexibility)
Your ideas become a reality as we trial free sessions or resources with classes at your school, featuring our fantastic student musicians. Workshops are likely to fall within this time period.
Evaluation visit | 6-10 April 2020
We'll meet with you individually to get your feedback on the end product and look at ways to refine our offer.
How do I sign up?
We are looking to work with 6 enthusiastic teachers of secondary school-aged children to develop ideas and resources that we will pilot and test for free with your students.
To find out more or to sign up, please contact:
Lydia Baldwin, Museum Learning & Participation Officer
lydia.baldwin@rcm.ac.uk or 0207 591 4842
* You must be able to attend the Learning Day on 15 November 2019
* Places will be offered on a first come, first served basis – sign up deadline is Friday 18 October