BBE Launches Artistic Development training with Philip Harper
31st August 2018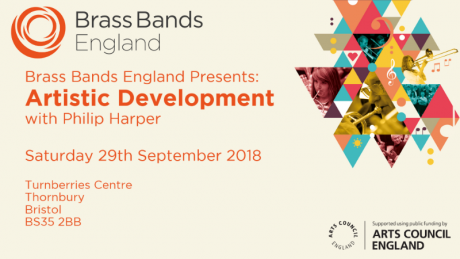 Brass Bands England (BBE) has launched the first of its new training and development programmes designed to help brass bands at all levels to thrive.  'Artistic Development' is the first to launch, led by top Musical Director Philip Harper.
The purpose of the event is to encourage MDs and band leaders to explore ways that they can be more innovative and creative in their approach to artistic programming, and more dynamic in their engagement with audiences both on and off stage.  BBE want to provide a space where band leaders can reflect on their practice, and challenge them to think about how their bands can be more resilient and relevant to audiences today.
In these sessions Philip will demystify the subject of Artistic Direction, particularly the role of the audience in artistic thinking.  He will discuss the importance to artistic leaders of self-learning, curious listening and wild imagination, as well as covering the nuts and bolts of on-the-ground artistic direction, working with bands in rehearsals.
Philip commented, "In my 20 years developing as a band conductor, I have often thought deeply about what it is exactly I am trying to achieve – the essence of my art.  When BBE asked me to take a national lead on this very topic I was very excited to have the chance to share my experience in a way which could potentially benefit all levels of banding.  I'm very much looking forward to meeting a wide spectrum of many like-minded people across the country in these workshops, which I hope will be inspirational to all".
Each point will be illustrated with practical examples, including a live illustrated rehearsal session with a band, and a demonstration of how Cory Band has learned to market itself better in the 21st Century.
The first Artistic Development event is taking place on Saturday 29th September in Thornbury, Bristol and tickets are available to buy online now via the following link: https://bbe.yapsody.com/event/index/283846/artistic-development-with-philip-harper
Future dates and locations will be announced in due course but will include:
1st December – (Location TBC – Midlands)
20th January – The Hawth, Crawley
23rd March – (Location TBC – North East)
May – (Location TBC – North West)
June/July – (Location TBC – Yorkshire)
BBE Chief Executive Officer, Kenneth Crookston, commented: "Our ultimate aim is to provide opportunities for improvement to every brass band in England.  We hope that our development programme, which is currently being finalised, will help to provide the necessary resources in relation to three crucial aspects of our activities that we have identified. We are delighted that Philip Harper has agreed to lead our Artistic Development programme, which we will be presenting at various venues around England over the next four years, and we are excited at the prospect of one of the leading artistic voices in brass banding working with bandspeople of all standards and ambitions in the months and years ahead."
Brass Bands England are developing a range of training modules for bands as a requirement of its core funding from Arts Council England.  BBE's strategic approach to developing English brass bands has been divided into three key areas:
Good Governance and Band Management;
Player Development; and
Artistic Development
Resource documents will be able for member bands to download via BBE's new website (due to launch in early September), alongside regional training days and workshops delivered by leading experts being made available to the wider music community.  For more information about the work of Brass Bands England visit their website at www.bbe.org.uk