BBE announces Youth Champs line-up
29th March 2019
Brass Bands England (BBE) has announced the line-up of participants at the National Youth Brass Band Championships of Great Britain, which will take place this Saturday (30th) in the Warwick Hall and Bridge House Theatre at Warwick School.
The event will kick off with the Elementary Section at 10.00am and is scheduled to conclude with the Championship Section results at 8.00pm, with longstanding compère David Hayward joined this year by children's television personality Dave Benson Phillips. The full line up is: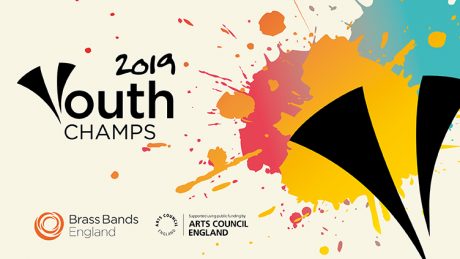 Elementary Section
Venue: Warwick Hall
Start Time: 10.00
Adjudicators: Simone Rebello and Christopher Bond
Age: 14 and under
Cottenham Brass Juniors (Craig Gallacher) 10.00
Dobcross Youth Training Band (Seth Livingstone) 10.25
Band Iau/Junior Band Gwasanaeth Cerdd Ysgolion Gwynedd a Môn (Lois Eifion) 10.50
Stockport Schools' Junior Brass Band (Andrew Myers) 11.15
Outwood Academy Brass (Michael Dodd) 11.40
Lions Junior Brass (Tom Hancock) 12.05
Macclesfield Youth Junior Band (Tim Grindey) 12.30
Intermediate Section
Venue: Bridge House Theatre
Start Time: 11.30
Adjudicators: Owen Farr and Sam Fisher
Age: 16 and under
Chalford Youth Band (Steve Tubb) 11.30
Fred Longworth High School (Helen Robinson) 12.00
Wardle Academy School Band (Lee Rigg) 12.30
Stockport Schools' Intermediate Brass Band (Tom Ridgley) 13.00
Egglescliffe School Brass Band (Matthew Haworth) 13.30
Elland Silver Training Band (Samantha Harrison) 14.00
Tewit Youth Intermediate Band (Martin Tromans) 14.30
Championship Section
Venue: Warwick Hall
Start Time: 13.30
Adjudicators: Steve Sykes and Richard Ward
Age: 18 and under
Set Test: Corineus (Christopher Bond)
Lions Youth Brass (Nigel Birch) 13.30
2 Band Hŷn/Senior Band Gwasanaeth Cerdd Ysgolion Gwynedd a Môn (Dylan Williams) 14.00
Macclesfield Youth Brass Band (Louise Renshaw) 14.30
Oldham Music Centre (Jonathan Leedale) 15.00
Cardiff County and Vale of Glamorgan Youth Brass Band (Charles Maynard) 15.30
Enderby Youth Band (Trevor Hounsome) 16.00
Rochdale Borough Youth Band (Ben Dixon) 16.30
Tewit Youth Senior Band (Martin Hall) 17.00
MK Youth Brass (Phil Devine) 17.35
10 Stockport Schools' Senior Brass Band† (Iain McKnight) 18.05
11 Youth Brass 2000 (Chris Jeans) 18.35
12 Northamptonshire County Youth Brass Band (Brad Turnbull) 19.05
† denotes that this band will not be eligible to win any prizes due to players being over the official age limit.
Debut Section
Venue: Bridge House Theatre
Start Time: approx. 15.00
Adjudicators: Owen Farr and Sam Fisher
Age: 12 and under
Lions Beginner Band (Megan Bousfield) 15.05
Hounslow Junior Brass (Alan Goodall) 15.25
Brass of the Saff (Julie Maxwell) 15.45
Don't Forget Your Mouthpiece (John Randall) 16.05
Also appearing at the conclusion of events in the Bridge House Theatre will be Huddersfield University Brass Band, conducted by Jonathan Beatty. As well as performing its UniBrass programme, the band will accompany the young pBuzzers of Pennthorpe School in their award-winning presentation prior to the announcement of results. A quintet from The Band of the King's Division will also be at the Youth Champs and will give performances throughout the day.
Speaking about the event, BBE Chief Executive Kenny Crookston commented: "We are very excited at the prospect of a fantastic day at the Youth Champs. Warwick School is a terrific venue, the young musicians will all be giving their absolute best and we can be sure to hear some fantastic performances. Tickets are still available, and if anyone in the Midlands (and beyond!) is looking for a good way to spend a Saturday then look no further than the Youth Champs at Warwick School!"
Tickets for this Saturday's (30th) Youth Champs are available online at www.bbe.org.uk or on the day at Warwick School.