Applications to audition for NCO 2020 now open
5th July 2019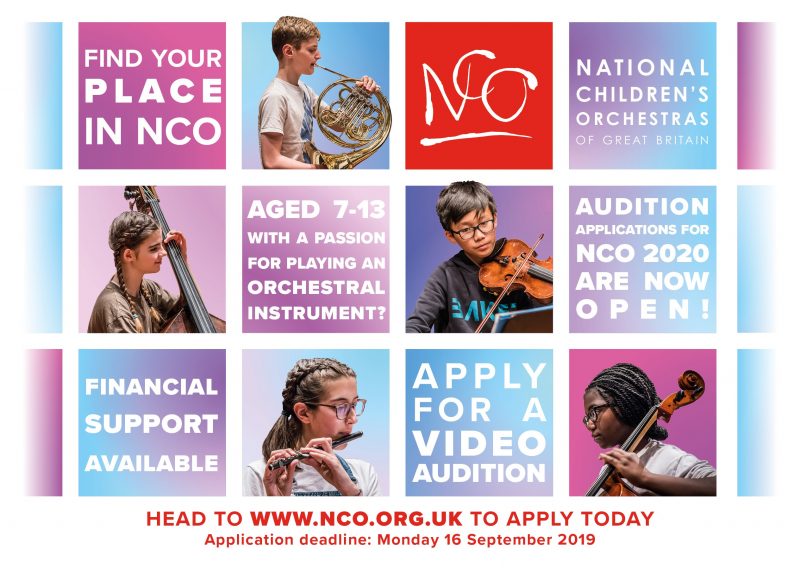 Applications to audition for National Children's Orchestras of Great Britain (NCO) 2020 are now open.
NCO is looking for:
·         Young musicians aged 7-13 years old…
·         Who are citizens, residents of, or studying in the British Isles…
·         And have a passion for playing an orchestral instrument!
In 2019, NCO members have:
·         Boosted their confidence and social skills, and formed fantastic friendships with their peers
·         Attended residential courses, centred around a child-led curriculum
·         Been empowered to develop new musical skills beyond the standard orchestral repertoire
·         Performed to public audiences at major concert halls across the UK
·         Participated in the Music:Eyes world premiere
·         Received guidance on wellbeing and injury prevention caused by playing
·         Taken part in exciting regional activities close to home
If you know any young people, whom you think might like to join us, please encourage them to apply for an NCO audition today. Simply head over to www.nco.org.uk to start the process.
Joining NCO has never been more accessible. New for 2019, we are pleased to offer a video audition option for all eligible NCO applicants, regardless of where you live or how old you are.
Live auditions are still an alternative option for older applicants who play strings, brass and woodwind instruments only. The live auditions take place during October in venues such as Birmingham, Bristol, Cardiff, Edinburgh, London, Manchester, Reading, Taunton and more.
Financial assistance is available. We are happy to offer support with membership fees and other expenses to the children who need it the most. Find out more about bursaries and annual fees here.