Achievement for All launches UK Song Writing Competition for 11-19-year-olds
12th May 2021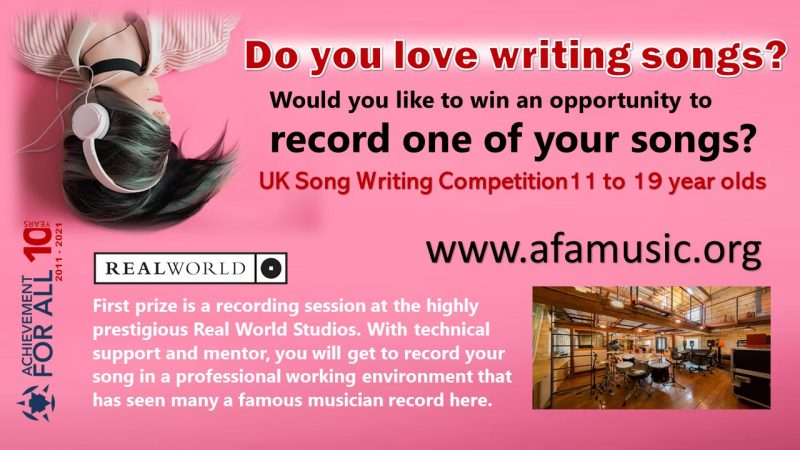 To celebrate their 10th anniversary, national award-winning charity Achievement for All have launched a UK Song Writing Competition for 11-19-year-olds.
Achievement for All is a national charity working to raise funds to provide much needed support for child and teen mental health and wellbeing, while celebrating youth talent and creativity.
Over the last few years, the charity has seen a significant rise in the amount of support required for wellbeing and mental health of young people, so the 'Achieving Wellbeing', programme has been developed to provide high impact support for schools, colleges and other providers working with children and teens. There is still an increasing demand to put help where it is needed in as many places as possible, hence the launch of this incredible fundraising event.
The song writing competition is open to all 11–19-year-olds who permanently reside in the UK. Achievement for All want to see original music composition and lyrics. They welcome all genres of music, anything from opera to rap and beyond.
The competition is open NOW and all entries to be uploaded onto the website by 25th July.
First prize is a recording session at the highly prestigious Real World Studios, with technical support and mentoring. The winner will get to record their song in a professional working environment that has seen many a famous musician through their doors. The winning song will be played on local radio stations. There are prizes for runners up too!
 See the website for full details  www.afamusic.org
For all enquiries email music@afaeducation.org