100 young musicians just gathered at a virtual music festival – and it was pure joy
4th August 2021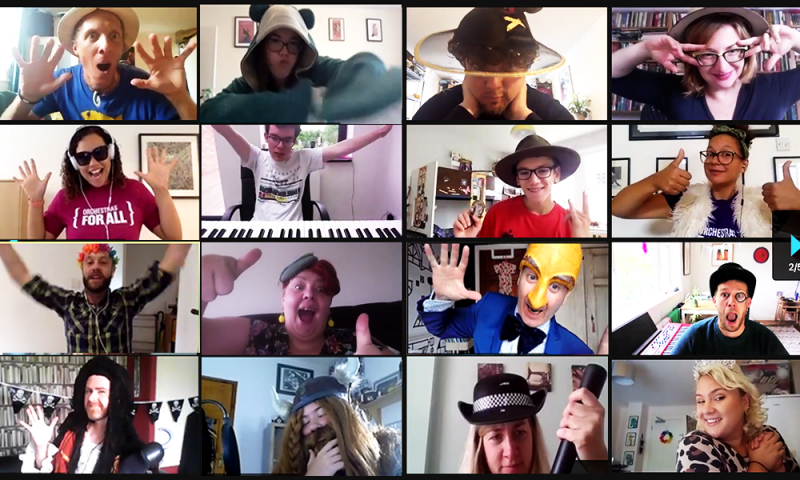 Last week, Orchestras for All (OFA) launched its first online music festival in a bid to break down barriers to music-making for young people in the UK, amid the coronavirus pandemic.
Known as NOFA Festival 2021, the musical extravaganza – held on Zoom from 27-30 July – was attended by the 100 young members of National Orchestra for All (NOFA) as well as a team of orchestral tutors, wellbeing specialists and volunteers from across the country.
They were joined by three special guests, including esteemed jazz trumpeter, Byron Wallen, beatboxer, James Botcher, and composer, Jack McNeill, who led just a few of the 40 diverse workshops on offer.
It comes as NOFA, the only completely inclusive national orchestra in the country, shares a new season of work titled 'The Way We See It' – a musical portrayal of equality, diversity and inclusion, and with youth voice at its core.
Throughout the week, festivalgoers were able to enjoy an exciting programme of activities at the Main Stage, Music Tent and Games Arcade, with young people left completely free to choose what they attended, and when, while the Chill Zone, Green Rooms and Space to Speak areas offered a moment of calm.
NOFA trombonist and Young Leader, Haseeb, told funders and donors: "Thanks to you, I've had the opportunity to work with musicians my age from all around the UK, developing both my social and musical skills."
Ambassador and former NOFA member, Kate, added: "Thanks to you, I've been able to support young people in their journey to music-making, helping them to adjust to the reality that we will (hopefully) be in person in the winter and building the confidence that they need to come and enjoy an in-person session with us as well as an online session."
Sharing his top tips on improvisation with NOFA, jazz trumpeter, Byron Wallen, said: "It's a judgement-free zone. The best ideas often come from mistakes! It's like a language and unites the world, so don't be afraid to express yourself. Remember – one person's chilli is another person's lemon!"
---
About NOFA
The National Orchestra for All (NOFA) is the UK's only completely inclusive national youth orchestra, bringing together 100 young musicians who would otherwise be unable to access the joy of music-making.
For 98 per cent of NOFA members, cultural barriers and limited access to music-making have prevented them from doing what they love the most. Many also face health barriers, with 55 per cent previously unable to play in an orchestra due to autism, a physical disability, learning difficulty, or social, emotional or behavioural difficulties.
And despite only 1.6 per cent of Black, Asian and ethnically diverse musicians being members of British orchestras, 37 per cent of NOFA players come from underrepresented groups – with 54 per cent based in the lowest 3 IDACI multiple deprivation deciles.