10 Things Schools Should Know About Music: #8 Music Underpins Better Behaviour
11th August 2020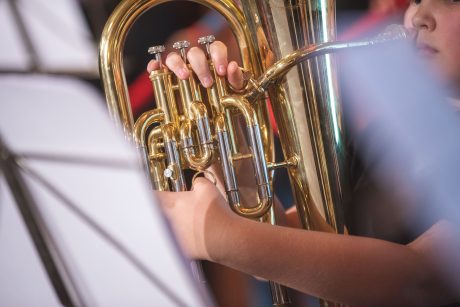 "Schools provide an ideal environment for promoting good emotional wellbeing and identifying early behaviour changes and signs of mental distress." From Young Minds, Wise Up: Prioritising Wellbeing in Schools
Throughout the #10Things campaign we've delved deeper into each of the points raised in our 10 Things Schools Should Know About Music booklet. We've explored what each point means in more depth with particular attention to what they mean now, in the context of the Coronavirus pandemic. This week we are exploring the point that music underpins better behaviour in schools. However, we are not interested in behaviour only in terms of whether or not students can sit quietly. We are interested in behaviour as a signifier of children's emotional wellbeing. We're focussed on the important ways in which music can underpin emotional wellbeing. As schools reopen teachers will be preoccupied with what's being called the "recovery curriculum"; the ways in which they can support their student's emotional wellbeing and by extension reinforce positive behaviour in the classroom. We're certain music can help.
Music making in schools leads to positive social outcomes. As is referenced in the booklet,
In 'Exchanging Notes' (Kinsella, Fautley and Whittaker 2019) researchers found that music led to emotional, psychological and social wellbeing outcomes for young people at risk of educational exclusion. The social outcomes were particularly marked – joining in with peers, making friends, developing teamwork and empathy. This in turn helped to develop group identity, improving behaviour and motivation in the pursuit of high-quality musical outputs.
Music lessons in schools require concentration. The concentration required to participate in a successful music lesson is of real benefit to young people. Whilst learning and practicing music students can access what psychologists refer to as a state of "flow". Flow is the mental state in which a person performing an activity is fully immersed in a feeling of focus, involvement, and enjoyment in the process of the activity. As 2007 research published in Horizons of Psychology noted, experiencing flow during musical activities is related to subjective wellbeing.
Gary Walls, a music teacher based in Bradford tells us in the 10 things booklet; When you get 20 children together with what could be very noisy instruments, we need certain disciplines and a level of behaviour, otherwise we'll be sat there for the next hour making a lot of racket without any purpose to it. As soon as the conductor comes to the front and raises his hand all the children are expected to have their instruments up and ready to play on the count of 4. Learning and playing music requires discipline.
The positive social outcomes promoted by learning music, the concentration and discipline required to make music successfully are all valuable ways that better behaviour can be underpinned. Join us next week when we'll be releasing our 9th article in the series, Music is for Everybody. And head to CanDoMusic.org to learn about a new campaign we're running alongside the ISM and the Music Teachers Association. If #10Things tells you why music must be taught in schools, #CanDoMusic explains how it is possible. Together we #CanDoMusic.