10 Things Schools Should Know About Music: #7 Music Boosts School Improvement
3rd August 2020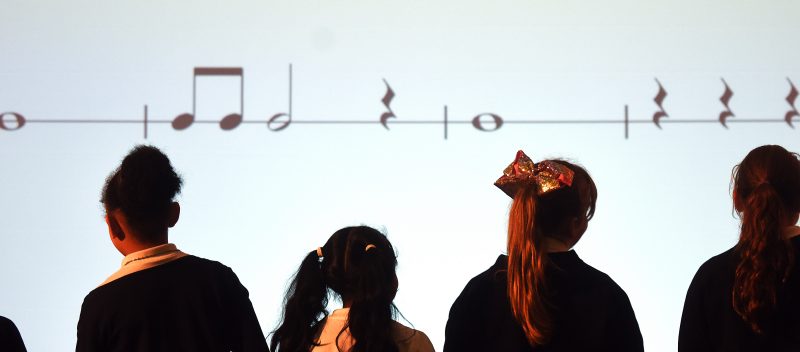 Regardless of its cognition-improving abilities or memory-enhancing effects, music can also fill the corridors of a school with song, laughter, and creativity.
As we say in our 10 Things booklet, 'a successful school is often a musical school'. Anecdotally, many will be familiar with the transformative effect on individual pupils that taking part in music lessons, school plays, performances, and theatre can have, and the self-belief it can instil in previously unconfident young people. However, as well as on the individual level, there are numerous examples of whole schools seeing radical improvement across the board after adopting a greater focus on music.
Feversham Primary Academy for instance made headlines in 2018 by going from special measures to being in the top 10% of schools in the country after introducing music as a compulsory subject. The outstanding Bradford based school began weaving more music into the curriculum and offering every pupil the opportunity to engage in additional instrumental sessions. The result was 'improved listening and focus' and excellent learning behaviour, Music Coordinator Jimmy Rotheram told us.
Similarly, at Dallow Primary in Luton where 98% of students are EAL learners, music helped many students build confidence in their language and communication skills. In addition to the feel-good result of greater morale and sense of community, the school also went from Special Measures to Good according to Ofsted after incorporating more music into the school.
Why might this happen? As ever, funding obviously plays a part, but a high-quality music education is regularly a unifying factor across schools rated as Outstanding. Though there is variation in criteria across the different education inspectors in England (Ofsted), Northern Ireland (Etini), Scotland (Education Scotland) and Wales (Estyn), broadly schools must show commitment to leadership, student behaviour and wellbeing, quality of teaching, and overall effectiveness. Music can assist in the achievement of each of these:
Achievement of pupils – As we discussed in #2 Music Improves Learning Skills, music is a discipline which countless studies have shown to correlate with higher attainment. Not only do studies show that regular music-making can improve cognitive ability, but music is also an effective way to engage with SEND pupils and develop the language skills of EAL learners.
Quality of teaching – When told to imagine a great lesson, we imagine a swift-moving, interactive session with an inspiring teacher. Implementing even just a few minutes of music into lessons across the curriculum is a good way of doing this, adding interest, and making the subject matter more memorable. Many teachers find rhythm, repetition, and song to be useful pedagogical tools, especially when considering the benefits music can have on young people's memory. If you would like to learn more about this, we have plenty of teaching resources, CPD tips and lesson plans on our Resources page.
Behaviour and safety of pupils – Assessing school behaviour considers factors such as attendance and exclusions, lesson participation, student engagement and responsibility, all of which music can support. The National Association for Music Education says 'an enjoyable subject like music can keep kids interested and engaged in school. Student musicians are likely to stay in school to achieve in other subjects.
Leadership and management – As well as the direction and governance of a school, this considers more subjective factors such as the spiritual, moral, social, and cultural development of students; in other words, the ethos of a school. A commitment to a 'broad and balanced curriculum' – that is, one which values music and the arts – demonstrates the ethos of a school where every student has the opportunity to develop their confidence, creativity, and sense of self.
This brings us on to our final and perhaps most important point. Whilst we can certainly examine the ways in which music is able to have an impact on school improvement in a measurable way on attainment, behaviour, and teaching ability, there are important ways in which music can improve a school that cannot be inspected, graded, or rated. Music can bring out inner confidence, foster a sense of community, inspire a lifelong passion, instil self-discipline. Across a school, these 'improvements' may not be captured by reports and inspections but are nonetheless crucial to the development and wellbeing of young people.
As Chrissy Kinsella said in her recent article for Slipped Disc, 'the experience of learning and doing music for music's sake – for the sheer joy of music – must never be underestimated'. That is, regardless of its cognition-improving abilities or memory-enhancing effects, music can also fill the corridors of a school with song, laughter, and creativity. Perhaps alongside better behaviour, teaching and attainment, this is the meaningful improvement all schools should aim for.
Why not catch up on the other articles in the 10 Things series? Be sure to join us for next week's article in the 10 Things Series, #8 Music Underpins Better Behaviour.