10 Things Schools Should Know About Music: #10 Music Builds Life Skills
24th August 2020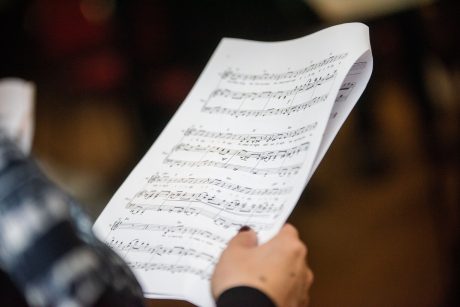 "I absolutely cannot stress enough how important music (and the arts) are in schools. It gives the opportunity to create and massively builds confidence and teamwork / social skills."
"Music made me want to go to school because it has the unique ability to bring people together."
"Music education has been the backbone and the grounding to everything I have done. There was continual, mutual inspiration from unexpected places around the classroom from the tuition, peers, and the process which has benefited my outlook on and collaborative work I've done since then."
Quotes from music students past and present at Guildford County School
Caroline Gale Director of Music and Head of Creativity at Guildford County School talks to us about the vital life skills built into a musical education.
Music is a unifying energy that creates an environment for personal accomplishment through a continuous, ever-evolving creative process. Music helps to develop a lifelong skillset and is a source of undoubted satisfaction. Education needs to provide a platform for life-enhancing opportunities, a platform to be heard and a platform that encourages us to be strong enough to be ourselves. It exposes the fullness of humanity, nurturing the emotional and spiritual, as well as the academic.
Music equips us with the ability to feel compassion, to embrace multiple perspectives, to understand that small, often subtle differences can have large effects and allows us to express what cannot often be said. It teaches that problems can have more than one solution and that questions can have more than one answer. It teaches us how, not what, to think.
As musicians and educators, our focus is to ignite, equip, prepare and organise an understanding of the world. One that responds to and sees the value and balance in logic and process alongside the aesthetic and in exploration, imagination and interpretation. By promoting and supporting the learning of instruments and singing, we catalyse the development of cognitive capacity and memory skills; fine motor skills and dexterity; problem-solving and nuance.
What greater preparation for life than understanding that all aspects of performing (be it musical, academic or in any form of presentation) happens in real time. Music creates an immediacy that requires us to be present and 'in the moment,' as well as being aware and capable of reacting under pressure. Music inherently calls us to understand the big picture – the end result, before we start to break down our practice, rehearsals and our planning. This cannot be a rushed process, as music rarely has a definite answer. It, therefore, relies on self-discipline, stamina, resilience, clear communication skills, spontaneity and genuine emotion but, can only bear fruit as a result of focused efficient, patient and structured, often incremental, preparation. The overarching influence of music lessons and rehearsals creates an unquantifiable sense of freedom, positivity and mental gain. It becomes far more than just a curriculum.
At Guildford County School, there is an understanding that the impact of music and creativity is an integral part of our whole school ethos. From orchestrating lessons, rehearsals, events, meetings, strategic documents and CPD opportunities, to understanding that the rhythms and practical applications of learning demonstrate interconnected, cohesive and cumulative approaches.
Music inspires curiosity through the learning journey. It teaches us acceptance of being vulnerable, to have the strength to see mistakes as a necessary part of the flexible learning process. Learning to progress and excel as individuals as well as fostering inclusivity, collaboration, pride and unity of intention happens both in the classroom and in ensembles and choirs. At Guildford County, this unity of intention is partly driven by our sixth form Music Ambassadors who co-run and chair our music council;  a feature of the whole schools approach to student voice and modelling. The focus of which, is centred around keeping music alive across many applications and platforms.
Music has been the very lifeline for so many during lockdown and a sharp reminder of the importance of breaking down preconceived barriers, eroding judgement and evoking empathy, understanding and connection. Music allows us to truly listen, not just to hone, refine and mould the creation of sound, but in order to fully understand each other which, in an increasingly dislocated world, is a vital and unique quality that the power of music, as a universal language, offers.
If we really are to prepare our students for tomorrows world, music is the core strength that forms the foundation for so many learning skills and approaches.
Caroline Gale
GRSMHons  LRAM PGCE
Director Of Music; Head of Creativity
Guildford County School: Specialist Music College