Young people to help to shape the future of music education in Lancashire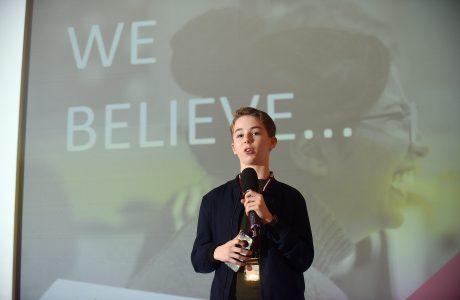 A group of young adults were invited to attend the National Music Mark conference in November 2018 to speak about their new manifesto which has been developed following new initiative by Lancashire Music Hub, working in partnership with the youth-led charity, Blaze, which set about creating Amplify – a youth music council for Lancashire.
Lancashire Music Hub and its partners decided to take a bigger step in making sure young people are represented at a strategic level in the Music Hub and have an impact on shaping the future of musical education in Lancashire. Working in partnership with the youth-led charity, Blaze, they set up Amplify – a youth music council for Lancashire.
Following an open meeting held in June 2018, a core group of 7 young people were recruited, and they met throughout the autumn term. The group are representative of range of musical backgrounds, including a young jazz musician, a YouTube singer-songwriter, a brass bander, a rock guitarist and a young promoter. The group also have different experiences of music education – some find that formal education supports their musical development but others have had the opposite experience.
The meetings were expertly facilitated by Matt Wilde, Director of Blaze, and the group came up with their own manifesto for music education which included challenging stigma attached the music education, emphasising the importance of music in everyday life, promoting business skills and musical diversity, as well as prioritising funding for music education.
The group also came up with some ideas for future priorities including a network of creative spaces for young musicians, free places to record music and get it heard, access to music industry education, opportunities to host gigs, and gaining inspiration through workshops with professional musicians.
Both their manifesto and their ideas were presented to the Hub's Strategic Board in October. They were hugely well received by board members and it emerged that there was much common ground with shared beliefs and ambitions.
The Amplify group then presented at the prestigious national Music Mark Conference, which is held annually and attended by representatives from across the music education sector. They spoke about the project, presented their manifesto and fielded questions from an audience of 250 delegates.
Lancashire Music Hub promotes a child-centred approach, with their teachers, and music leaders taking individual learning styles and musical preferences into account. They also promote youth leadership within their many music centres and county ensembles and young leaders are actively involved in decision making about repertoire, trips and performances, structure of rehearsals, marketing, recruitment and more.
Hub partners, More Music, also have an extremely strong track record in this area, with an established Young Leaders group who, as well as organising gigs and events, are consulted on a wide range of issues affecting the whole organisation. They also work towards their Arts Award through the project.
More Member Success
Explore the fantastic work of our members