Young musicians from Love Music Trust raise £2k to commission award-winning composer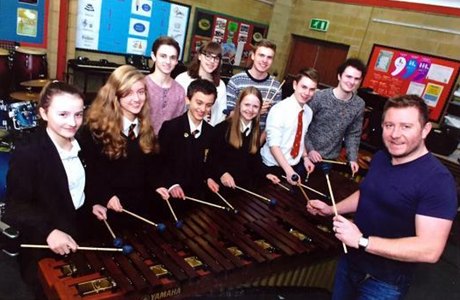 A group of young percussionists has raised £2k to commission and perform a new piece of music by an award-winning contemporary composer at the Royal Northern College of Music (RNCM).
Made up of students from across Cheshire, the Love Music Trust Percussion Ensemble will be performing "Elvis was my Taxi Driver" by Andy Scott at the RNCM's Day of Percussion. The musicians – based at Sandbach School – held fundraising concerts and a day-long 'playathon' to raise the money.
For 12 hours, at least one member of the ensemble had to be playing at any one time. But as the group's musical director Mark Concar told AP, in reality it meant that everyone played for the whole day. Drum kits were rolled into practice rooms, marimbas left in corridors, glockenspiels put on stage. Beethoven fused seamlessly with Eric Sammut and Coldplay as the collection of ensemble players, both juniors and seniors, hammered away at percussive instruments in various parts of the music block.
Concar said that the £900 raised by the stunt was absolutely essential to fund the commission. Although the group received significant support from parents and the Love Music Trust, the lead partner and fund holder for Cheshire East's music education hub, the group found that gathering donations for a piece of music alone is a difficult task. "People will happily pay for a marimba — they can see where the money's going. But it's not the same for music. That's a real shame for many groups, because whilst the repertoire for percussion ensembles has come forwards, trying to find a piece that stretches every single one of the players is not easy."
Bearing this in mind, the composer Scott worked with the students to make sure that each part in "Elvis was my Taxi Driver" played to the individual musician's strengths. The students will be performing it and two compositions they've written themselves as part of the opening act at the RNCM's Day of Percussion on 7th February.
Love Music Trust Chair Dr Jonathon Savage expressed his admiration for the ensemble: "They're a testament to what can be achieved through talent and determination."
Read more on the Arts Professional website
More Member Success
Explore the fantastic work of our members