Young musicians and Laura White raise the roof at Make Some Noise event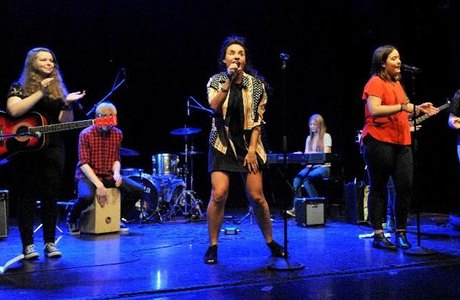 Singer/song writer Laura White raised the roof at Burton upon Trent's Brewhouse Arts Centre recently as she performed alongside talented young musicians aged 13-19 years old from East Staffordshire & Derbyshire.
The fundraising gig on 4th September formed the culminating part of an exciting four day music industry residency for young musicians at the Arts Centre. It also marked the end of a fantastic outcomes-focused 2 year project working with young people from across the regions.
Two years ago, West Midlands-based music charity, Make Some Noise was commissioned by Arts Connect (bridge organisation for the West Midlands). Make Some Noise was awarded a £10,000 grant to grow a local music scene and explore what challenges face an arts centre who wants young people to take control. Within the first year, Make Some Noise supported the Brewhouse Arts Centre to develop a project called Wired for Sound Futures that was able to secure a further £45,000 from the National Foundation for Youth Music to roll out a successful model of outreach and in-reach.
This Wired for Sound Futures Musicians' Residency was delivered by Make Some Noise in partnership with East Staffordshire Borough Council and The Brewhouse Arts Centre with special guest appearances from music industry professionals, of which Laura White was one.
Over the course of the residency, the young participants took part in a series of masterclasses designed to develop their musical skills in song writing and performing as well as their emotional and personal skills. Working in mixed-ability and mixed-skill groups they created three original charity singles which they performed live at the gig alongside covers and other original material.
Laura White who was a popular finalist in the fifth X Factor series back in 2008 has continued with her singing and song writing, having penned songs for leading pop artists, including Cher Lloyd and Leona Lewis and more recently Rita Ora's new track with Charles Hamilton, `New York Raining'.
Arriving for final day, Laura shared her experiences of the music industry and offered a fascinating insight into how she has built a successful career in song-writing. Passing on her incredible advice and support in song writing to the young participants, Laura also talked about recording of her new record.
Laura said: "It's been an incredible week with these young musicians. They are so talented and I am delighted to have been a part of this exciting project. I have had the best time."
Shannon aged 13 from Burton, one of the young musicians taking part said: "Laura's talk has really inspired me to keep going." One of the parents added: "thankyou so much … What an amazing experience for all those lucky kids and what they have done in 4 days is just beyond words. An awesome show to end the week. Thank you."
Each song produced by the young participants will be uploaded as part of the collection of charity singles.
Other music industry professionals who took part included:
Laurence Hobbs, Music Industry Producer and Songwriter from Blue Room Music, a top industry standard recording studio providing a high quality recording service to aspiring artists. As a writer and producer Laurence has written with many acts including Sam Smith, Pixie Lott and Shayne Ward. Laurence oversaw the project and provided invaluable expertise and guidance on song-writing and production throughout the week.
Laurence said: "I was really excited to be part of the  Wired for Sound Futures Musicians Residency. As  a songwriter and producer nothing inspires me more than working with up and coming songwriters, musicians and singers. We have so much untapped talent in the UK and giving them an opportunity to write, record and release 3 songs within a few days has been a challenging but immensely fun week."
Steve Sheldon, Guitarist and multi-instrumentalist, songwriter and Lecturer is based at the Academy of Music and Sound in Birmingham. His masterclass session covered song-writing composition and guitar skills.
Steve's work as a teacher and session musician keeps him busy around the UK and Europe. He has featured in performances on BBC Television, BBC Radio (including BBC introducing) and MTV Live. Steve has also worked with artists such as Soweto Kinch, Laura Oaks (from the Voice) and David Lawrence (composer for BBC).
Steve said: "I was very excited to join the project at the Brewhouse and it was great to meet new musicians and help them to further their own musical career."
Jamie Sellers, Singer/Songwriter and Record Producer, originally from Glasgow, Scotland but now based in London. Over the past 12 months Jamie has had two UK Top 40 singles, two UK top 40 Albums, a number 1 platinum album in Japan, Billboard top 20 single in the US and various other European successes. Jamie has worked with a huge array of artists across all genres, from unsigned acts, to acts like Alesha Dixon, Max George (The Wanted), Kingsland Road (X Factor), District 3 (X Factor), Room 94, B*Witched, give to name a few.
Jamie said: "I think as a musician you never feel like you stop growing and developing.  I get excited by events like Make Some Noise and meeting the next generation of talent. Getting ahead in music is hard, getting the right advice and the right guidance in those early years is absolutely key."
About Wired for Sound Futures
Wired for Sound Futures is a Burton upon Trent project delivered by Make Some Noise in partnership with East Staffordshire Borough Council and the Brewhouse Arts Centre, Burton upon Trent. It is designed for young musicians and bands to create their own music scene with support from The Brewhouse Arts Centre. Young people have the chance to rehearse, perform and write songs alongside professional musicians who are on hand to offer music industry support and advice in performing, song writing, ticket sales, promotion and business planning to turn their local centre into a thriving live music venue.
More Member Success
Explore the fantastic work of our members