Watch a worldwide community come together in song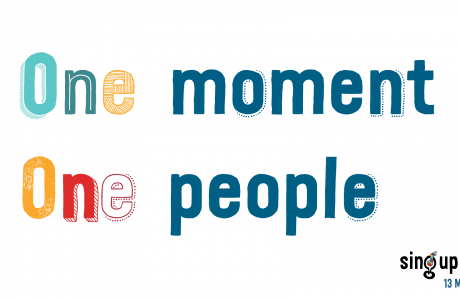 For the tenth year running, schools all over the world joined together to celebrate our annual Sing Up Day event.  On 19 March 2019, over 64.5k singers in more than 300 events across 30 countries and 10 time zones took part.
Singers of all ages and abilities came together to form choirs in schools and community groups that participated in special activities in recognition of the important place singing has at the heart of students' education and development.
This year Sing Up was fortunate to work with the Yale Glee Club, who helped us celebrate the 10-year anniversary of our annual event by running a series of workshops and performances with students in two lucky schools across London. The Student Director of the club reflected on the impact of the project and Sing Up Day as a celebration:
"The Sing Up Day song has a strong message; we are coming from many countries and many backgrounds but when we get together in a choir, we sing in harmony and work together. Music can actually play an important role in society if we really appreciate each other and respect each other. And those values we can learn from being in a choir."
The 2019 Sing Up Day anthem, One moment, one people by Beccy Owen, encouraged participants to share a message of positive action and to unify all who sing it.
We received 105 videos, including videos from schools in 18 countries outside the UK, which we've put together in a very special compilation video that you can watch here.
Michelle James, Sing Up's CEO, explains how singing can revive a sense of community and keep music alive:
"Sing Up Day is a great opportunity for us to reach out to schools all over the UK and across the world and spread the joy of singing. This year's song had a particularly poignant message of coming together and supporting one -another – a message we are keen to help schools to spread among their pupils and wider communities. Beccy Owen's lyric about the world getting kinder as we sing side by side is the core message of the song, and one we can definitely get behind."
One moment, one people will remain available for free download from the Sing Up website as well as all the accompanying resources to get students singing.
Sing Up would like to say a huge thank you to all the schools featured in the video, and to everyone who took part.
More Member Success
Explore the fantastic work of our members