Waltham Forest Pupils Raise the Roof with Music at Festival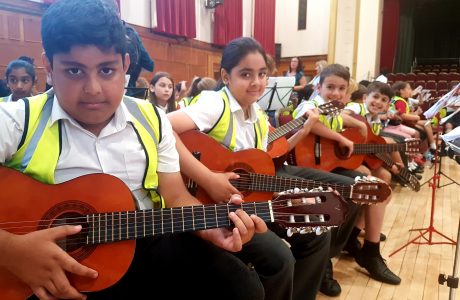 Over 2,000 children performed at the Waltham Forest Music Festival this week (2, 3, 4 July) in six high-energy and diverse concerts held in the magnificent Walthamstow Assembly Hall.
The annual festival is a celebration of the talent and enthusiasm of Waltham Forest's young musicians and is hugely rewarding for all who attend. The concerts incorporate a range of musical styles from rock to classical, with children aged from 5-18 of all abilities. There were also a number of world premieres, including pupil compositions and specially commissioned arrangements.
On each day, pupils from Primary and Secondary schools across the borough came together and formed massed choirs and performed rousing tunes together, including 'Human' by Rag and Bone Man and 'This is Me' from the Greatest Showman.
On Tuesday, pupils performed in a concert that commemorated the centenary of World War One, in partnership with the East London Music Group. Working with local actors and musicians this concert told the story of how people from Waltham Forest experienced WW1, bringing history to life for pupils and audience alike.
On Wednesday, over 170 young brass musicians from Waltham Forest Primary schools joined together to play pop classics including Michael Jackson's 'Bad' and Katy Perry's 'Firework'. Led by award winning band 'Oompah Brass', the massed brass band really 'raised the roof' of the Assembly Hall and sounded magnificent.
Performances at the festival also included: the winner of the WFMEH Battle of the Bands competition for secondary school pupils, 'Last Minute' performing 'Redbone'; Music School groups including Funk in the Forest and the Waltham Forest Youth Orchestra; The Highams Park School Choir singing 'Take Me to Church'; Walthamstow School for Girls Steel Pan Band performing 'Mr Blue Sky' and many, many more.
Young people can find out more about music opportunities in Waltham Forest either by speaking to the Music Co-ordinator in their school or by contacting Waltham Forest Music Service:
www.walthamforest.gov.uk/music-service or email Music.Service@walthamforest.gov.uk.
More Member Success
Explore the fantastic work of our members