Waltham Forest Music Festival celebrates young musical talent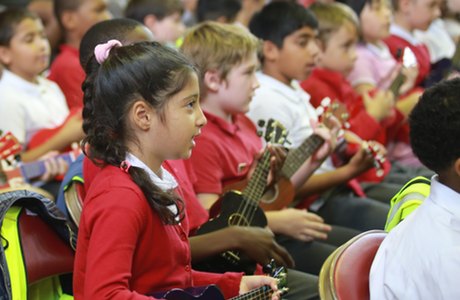 Hundreds of young people from across the borough took part in the two-day Waltham Forest Music Festival on 5-6 July.
Held in Walthamstow Assembly Hall the annual festival was a true celebration of home-grown musical achievement.
12 schools took part in two daytime concerts with performances from massed choirs as well as wind, ukulele and recorder groups. Audiences were treated to uplifting renditions of Aint' No Mountain High Enough and Something Inside So Strong.
The Festival finale on Wednesday evening featured ensembles from the Waltham Forest Music School. Highlights included the Guitar Group's performance of David Bowie's Ziggy Stardust, the Dance Band's rendition of Gershwin's Summertime and the Wind Band's version of Hawaii 5-0.
Judith Glossop, Joint Head of the Music Service said:
"The children have worked exceptionally hard this year and this showed in the high standard of performances at the Festival."
The Festival was attended by Waltham Forest Mayor and Mayoress Cllr Peter Herrington and Mrs Susan Herrington. The Mayor said: "The Mayoress and I, along with the rest of audience, were incredibly impressed by the children's performances which were very energetic. The Festival showed that the Borough is home to a rich seam of talented and hard-working young musicians."
About Waltham Forest Music Service:
Waltham Forest Music Service offers a wide variety of opportunities for young people to pick up and play a musical instrument – whether they're just starting out or looking to hone their skills.
The service runs a Music School at the end of the normal school day, selected free foundation group classes, instrumental and vocal tuition and instrument hire at an affordable price.
Many of the musicians benefitting from the service can choose to take part in public performances, should they wish. Recently groups from Waltham Forest have performed in concerts at the Barbican and Cadogan Hall in central London.
Children have the opportunity to hear and perform with professional musicians and other young people through partnerships with the London Symphony Orchestra, London Chamber Orchestra, the Royal Opera House and others.
Any young person wanting to get involved with the music service can do so either by speaking to the Music Co-ordinator in their school or by contacting the Music Service: www.walthamforest.gov.uk/music-service or email Music.Service@walthamforest.gov.uk
More Member Success
Explore the fantastic work of our members