UK 13 year-old makes history by opening the Amsterdam Open Air Festival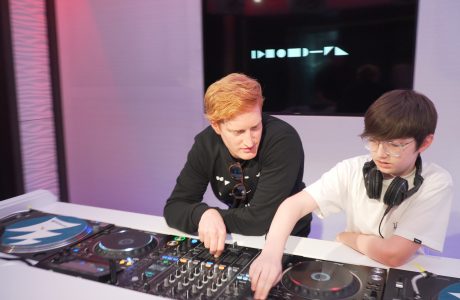 Sandro Charmers made history by opening, on the main stage, the Amsterdam Open Air Festival on 1st June. He is just 13-years old and the youngest UK DJ ever to open a festival – anywhere in the world. Sandro, a pupil at Birkdale High School near Liverpool, has been learning to DJ at school as part of the FutureDJs programme for two years with his tutor Max Carton.
Austen Smart, CEO of FutureDJs, said: "Sandro is an ideal student, he is focused and level headed and understands the responsibility that goes with performing. We're certainly excited by the momentum building around him. Equally we're also very mindful of his age and school studies. One of our team was world DMC champion by the age of 19 — and he did very well at school—we know it is possible. We're sure his fascination and passion for electronic music will inspire other young people to dream big, practise and persevere – just as he has done. And we want to be there to help them".
DJ-ing is part of the national curriculum and can be included in music teaching, however most schools don't have the equipment or the expertise to teach it. So, Birkdale High School called in FutureDJs to help. FutureDJs supply professional DJ tutors to teach a course developed with classical musicians (to be published by Faber Music later this year) and provide industry standard kit for free into the schools thanks to their partnership with Pioneer DJ.
More Member Success
Explore the fantastic work of our members