Sunderland students celebrate arts grant by jamming with stars of American Idiot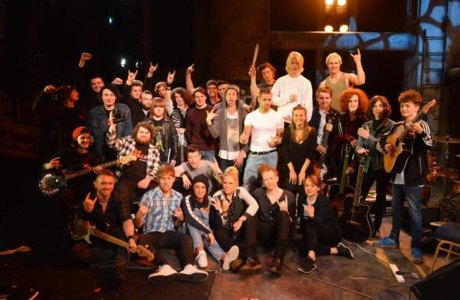 Chart-topper Newton Faulkner, Amelia Lily, Alice Stokoe and the tour's musicians and sound tech team took a break from the energetic musical to rock out with talented students from St Aidan's School and The Bunker.
The workshop saw the launch of a new project, Beyond the Band Pit, which has received a £15,000 from the Arts Council after a joint application from Sunderland Empire's Creative Learning Department and Sunderland Music Education Hub.
As part of the year-long collaborative project, young people will be able to take part in an Arts Award learning programme for rock and pop bands aged 14 and over from schools across Sunderland.
Double Platinum record-selling Newton, who rose to fame with hits Dream Catch Me and I Need Something, said: "This funding is exactly the kind of thing the arts needs."
Speaking about the show, which is running at Sunderland Empire until Saturday, he said: "The crowds were amazing last night. It's different to other musicals, it takes you to some dark places, but people are really passionate about it."
Read more on the Sunderland Echo website
More Member Success
Explore the fantastic work of our members