Strategic Joint Appointment Heralds New Era for Music Education in West Sussex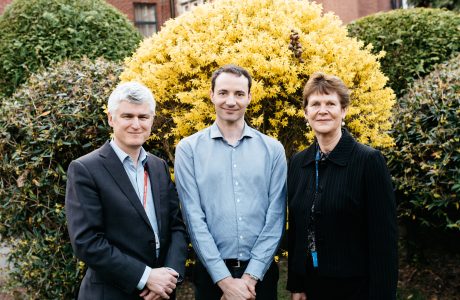 West Sussex Music joins forces with The College of Richard Collyer in Horsham to announce New Director of Music role
Marking the beginning of an exciting new era for music education in West Sussex, West Sussex Music has joined forces with The College of Richard Collyer in Horsham to announce the appointment of Ben Dowsett as Director of Music. With a wealth of experience, gained most recently as Head of Music at The Sixth Form College, Farnborough where he is currently responsible for running one of the country's largest and most successful centres for A Level music, Ben is well positioned to fulfil ambitious plans for music at the college and to make his mark on musical achievement in West Sussex.
A joint appointment between West Sussex Music and Collyer's, the new role will see Ben assume the position of Director of Music at Collyer's, leading the A Level Music course, as well as making a significant contribution to providing progression routes to young musicians across the county. He will lead the enhanced extra-curricular music programme at Collyer's and provide countywide support for talented young instrumentalists working with the leadership team at West Sussex Music. Ben will also lead the West Sussex Music Academy, a new music strand within the Collyer's Performing Arts Academy, created for the benefit of all Collyer's students passionate about music, not just those focused on music as a career, but also those who play music to beyond Grade 5 standard and are interested in improving their music performance.
"Teaching has been very much the centre of Ben's career and he was very impressive at interview.  He demonstrated his belief in the study of music as an academic subject and also as an enrichment activity which nurtures skills and gives pleasure which lasts a lifetime.  We are very lucky Ben will be joining us at Collyer's to teach A Level Music and lead our music enrichment programme from September." Said Collyer's Principal, Sally Bromley.
A Christ's Hospital alumnus, Ben completed his undergraduate studies at the Guildhall School of Music & Drama, where he graduated with a BMus (Hons) in Music, his postgraduate studies include a Masters in Composition and Conducting at Surrey University and a PGCE in Secondary Music from the University of Cambridge.  An active composer, arranger and brass player, Ben plays with a range of orchestras and bands and was formerly a member of the award-winning Friary Guildford Brass Band and has enjoyed solo success on stage in roles such as Pish Tush in The Mikado and Robin / Sir Ruthven in Ruddigore.
"We are delighted to welcome Ben to the team. He brings with him a wealth of experience and an energetic vision that will not only reshape the delivery of A Level music at Collyer's but will impact musicians joining the West Sussex Music Academy. Ben's instrumental and compositional skills will be invaluable to the work of West Sussex Music in our provision of music lessons in schools and at our Horsham Music Centre. I am pleased that the already strong partnership between the College and West Sussex Music will be cemented through this shared appointment." said James Underwood, Chief Executive, West Sussex Music.
About West Sussex Music: West Sussex Music is the largest provider of high-quality music education to children and young people in West Sussex, offering vocal projects, whole-class ensemble tuition, instrumental and vocal tuition, and advice and support for schools as well as a comprehensive range of musical activities at its five Music Centres. Through its curriculum support, professional development opportunities and facilitating role, West Sussex Music builds music into the very fabric of school life; supporting schools and teachers to achieve the best possible outcomes for pupils, their families and the community. For over 50 years, West Sussex Music has supported projects that enable access to cultural opportunities for disadvantaged and disaffected young people through its strategic partnerships with other arts and cultural organisations and it plays a valued role as the Music Education Hub for West Sussex. A Not-for Profit Independent Company Limited by Guarantee with Charitable Status, West Sussex Music's musical opportunities for children and young people are funded by income from parents, schools and the National Music Grant, administered by Arts Council England. For more information, please visit www.westsussexmusic.co.uk.
About Collyer's: Collyer's was established in Horsham in 1532 when Richard Collyer left money in his will to support the education of 60 local boys.  In the early years it was located by St Mary's Church but moved to its current site on Hurst Road in 1892 when it was established as a boys' grammar school.  Collyer's has been a state sixth form college since 1976, providing sixth form education for pupils from Horsham and the surrounding area.  Collyer's is Ofsted Grade 1 Outstanding and in 2018, students' value added scores placed the college top in the county and sixth in the country.
More Member Success
Explore the fantastic work of our members