Sheffield pupil wins place with National Children's Orchestra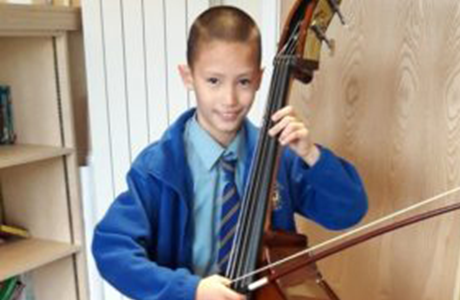 A Year 5 pupil at St. Wilfrid's Catholic Primary School in Sheffield has been selected to join one of the country's most prestigious groups of young musicians, the National Children's Orchestra.
Eamonn Foley, aged 9, started double-bass lessons in January last year and made quick progress, wowing the NCO tutors with his audition in April who said he showed an "exceptional talent". He has now been accepted into the NCO under 10's orchestra.
Eamonn also has a keen interest in piano and violin and is a vital member of the Music Hub intermediate Jazz band, who perform regularly around Sheffield.
Eamonn attended the NCO Training Academy Summer Course in August last year and is also a member of the NCO Northerlies Regional Orchestra, based in Leeds, and took part in the Winter concert in Manchester in November.
Jack Lowe, Music Hub Music Leader said: "Eamonn's success is all down to his hard work, dedication and enthusiasm for music. He has done exceptionally well to reach this stage in his musical career.
"He has been a pleasure to teach over the last year and I look forward to continuing to teach Eamonn and will be following his progress on the national stage."
Councillor Jackie Drayton, Cabinet Member for Children, Young People and Families at Sheffield City Council, said: "What a fantastic achievement. I hope Eamonn will inspire other children and young people from across the city to get involved in our wonderful Sheffield Music Hub and the musical activities they provide throughout the year. I look forward to hearing more about Eamonn's achievements as he journeys through his musical dream."
More Member Success
Explore the fantastic work of our members