Robin Hood Youth Orchestra Make Nottingham Proud in Karlsruhe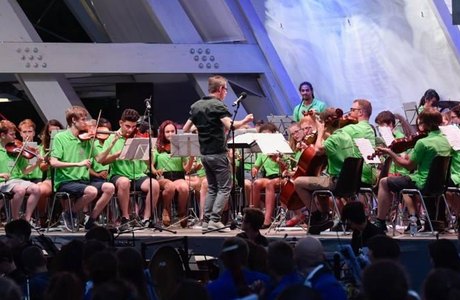 The Robin Hood Youth Orchestra (RHYO), an ensemble of young musicians aged 11‐19 who rehearse at Nottingham Music School each Saturday morning, visited Nottingham's twin city of Karlsruhe from the 22nd-27 th July. During the visit they performed as part of the 'Come Together 2015′ Festival alongside youth orchestras from Halle (Germany), Timisoara (Romania) and Krasnodar (Russia) in spectacular celebrations of Karlsruhe's 300 th Birthday as a city.
The orchestras' performances attracted attention from German press on numerous occasions, most notably during a flash-mob at 'Das Fest', broadcast on national German TV. You can watch this performance and read some of the many newspaper articles about the birthday celebrations on the Nottingham Music Hub website.
More Member Success
Explore the fantastic work of our members