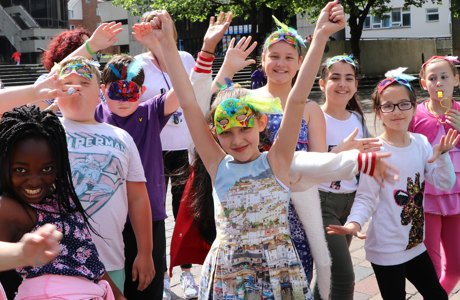 A taste of Rio came to Portsmouth on Wednesday 6 July when 10 schools and 1000 primary-aged children came to the Guildhall Square in Portsmouth with drums, streamers, flags and whistles.
The children were there for Portsmouth's very first Cultural Carnival.
The carnival atmosphere began immediately with 20 young cornet players from Arundel Court Primary School, Maypole dancers and the Pompey Pluckers Band entertaining the children as they arrived. After taking their seats on the Guildhall steps all the children sang 'The Carnival Song' which had been composed especially for the event by one of the Music Hub's composers.
Watched by surprised and smiling members of the public the Carnival procession took 1000 children around the Guildhall Square and into Victoria Park. There was laughter, singing, dancing, flags were waving and the children in masks and costumes walked around the park entertaining the public and ruffling the feathers of a few startled pigeons!
Willow Webber, aged 10, from Arundel Park Primary School, said; "It was like one big party. We were all having fun and celebrating. It was great being part of something with all the other schools."
Portsmouth Music Hub produced the event, and brought together arts professionals to celebrate the cultural diversity and creativity in the city.
The Carnival came to an end with a performance from Northern Parade Junior School's Steel Band, who finished off the morning of carnival by encouraging everyone in the Guildhall Square to clap and dance – even the Lord Mayor and Deputy Lord Mayor of Portsmouth jumped up and joined in the fun.
Sue Beckett, CEO of Portsmouth Music Hub, said after the event: "The sun smiled on the children today. It's been a wonderful event, full of colour and song, and we plan to make the Carnival an annual event, and to encourage more performers from Portsmouth's cultural community to get involved."
More Member Success
Explore the fantastic work of our members