Resonate Music Hub presents iSing at the Philharmonic Hall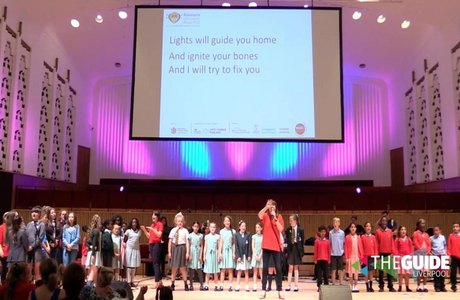 It was the 5th iSing 'celebration of singing' event and brought together hundreds of local school children and their teachers to celebrate the amazing singing talent that exists in schools across Liverpool.
The 1300 young people spent the morning polishing their songs and having fun with singing and in the afternoon the exciting day culminated in a spectacular concert, in which the children sang with a live band and special guest performances.
A drinks reception for Liverpool's business community was held in the Grand Foyer of the Philharmonic Hall hosted by Head of Service at Resonate Jonathan Dickson along with sponsors Joel Jelen & David Al-Hadithi of Ubiquity pr & Springboard Design respectively.
Shortly afterwards, guests joined the children in the main hall to experience Liverpool's iSing event first-hand.
Mr. Dickson said: "This event just gets better and better every year. It was particularly poignant this year as the wonderful Jean Tremarco announced she is leaving the service after decades of inspiring literally thousands and thousands of young people in their music education across the city. There were a lot of tears in the room as well as many of her former students who attended the day especially to say thank you!"
More Member Success
Explore the fantastic work of our members