Primary school students in Nottingham earn Music Medal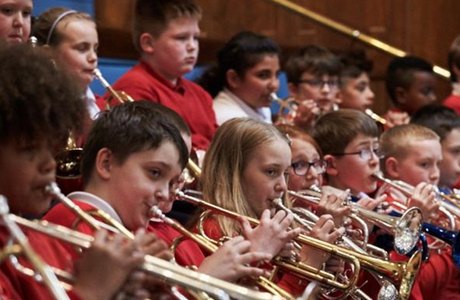 340 students from primary schools across Nottingham have performed together in a mass orchestra to earn a Music Medal qualification from ABRSM.
Taking place at the Albert Hall on 30th April, the event involved  students performing two pieces that will be assessed with solos learned at school as part of Nottingham Music Service's first access programmes.
This includes the In Harmony programme, which aims to use community-based orchestral music-making to transform the lives of children in deprived areas.
With the support of Music Education Hub funding from Arts Council England and the DfE, Nottingham Music Service has helped 8 and 9-year-olds learning an instrument gain the Music Medal, an internationally-recognised music qualification.
Ian Burton, CEO of Nottingham Music Service, said: "I've seen the clear benefits of In Harmony/Music Hub integration in the city. We now have a critical mass of inner-city children (from both IH and non-IH schools) with a confidence in their music making that has resulted in:
a 385% increase in numbers gaining a nationally-recognised music qualification in the city over the last three years
significantly larger numbers of players moving up to secondary school, making inclusive follow-on provision for young people from all schools much more manageable
a marked raising of standards where young people from In Harmony and other music
hub programmes rehearse and perform together, such as in our area band network
and music camp!"
The schools involved in the mass orchestra were Cantrell Primary, Dovecote Primary, Robin Hood Primary, Seely Primary, Portland Primary Academy, William Booth Primary, Mellers Primary, Nottingham Academy Primary, St Teresa's Primary and St Ann's Well Primary,Southwold Primary and Ambleside Primary.
More Member Success
Explore the fantastic work of our members