Portsmouth Music Hub bring together 250 students for Soundsational concert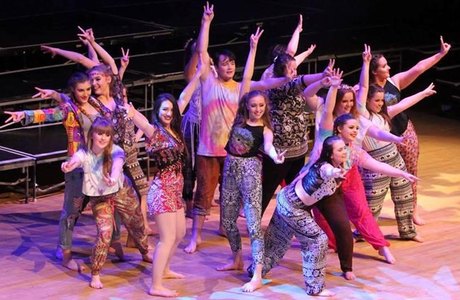 More than 250 young singers, dancers and musicians took to the Portsmouth's Guildhall stage on Wednesday (9 March) for a night of music and entertainment.
Soundsational, was produced by Portsmouth Music Hub, and brought together students, aged from 11 to 18, from nine local Schools, Colleges and Academies.
There was a wide range of acts on offer for the hundreds of families and members of public who filled the Guildhall.
Portsmouth Music Hub's own Rock Band performed tracks from Coldplay and The Beatles, and in a tribute to David Bowie they played his legendary hit Starman.
South Downs College danced and sang to Cy Coleman's The Rhythm of Life, and Charter Academy's Swing Band took the audience back to the Big Band era with In the Mood and Boogie Woogie Bugle Boy.
The evening included performances from St. Edmund's Catholic School, Highbury College, Admiral Lord Nelson School, Portsmouth Academy for Girls, Springfield School and Portsmouth College. The night included an unforgettable performance from Lionel Bart's musical Oliver, with Trafalgar School students singing and dancing to Oom Pah Pah!
The concert came to an end with more than 150 students filling the stage for a Massed Choir performance of Bob Marley's One Love and Take That's Rule the World.
Sue Beckett, CEO of Portsmouth Music Hub said after the concert: "It's been a stunning night. With the support of Portsmouth Guildhall we've been able to give hundreds of young people the chance to experience live performance in one of the biggest and most exciting venues. Seeing the dedication, the commitment, a few nerves but plenty of talent from so many young people has been has been truly inspirational."
More Member Success
Explore the fantastic work of our members